Steering lock - Ignition - Starter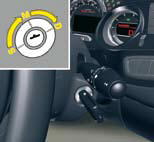 S: Steering lock
To unlock the steering, gently move the steering wheel while turning the key, without exerting undue force.
When you remove the key, turn your steering wheel to lock the steering. The key can only be removed when in position S.
NEVER REMOVE THE IGNITION KEY BEFORE THE ENGINE HAS COME TO A COMPLETE STOP.
IT IS ESSENTIAL AL WAYS TO DRIVE WITH THE ENGINE RUNNING , SO AS TO RETAIN STEERING AN D BRA KING ASSISTANCE (risk of the steering lock engaging and loss of safety features).
When stationary, having removed the key, carefully turn the steering wheel if you wish to lock the steering.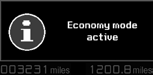 Economy mode
When the engine is stopped, some functions (audio system, screen wipe, electric windows, sunroof, electric seats, telephone, video, interior lighting etc.) are only electrically supplied for a maximum period of 30 minutes, to avoid discharging the battery.
Once this period is over, a message is displayed on the instrument panel screen and the active functions are placed on standby.
The electrical components relating to comfort and also the headlamps (not sidelamps or hazard warning lamps) cut out automatically. To reactivate them, it is necessary to start the engine.
See also:
Parking brake
Mechanical brake to hold the vehicle when stationary. Applying Pull the parking brake to immobilise your vehicle. Releasing Pull on the handle and press the button A to release the parking br ...
Special position of the windscreen wipers
In the minute following switching off of the ignition, any action on the stalk positions the wipers vertically. This action enables you to position the wiper blades for winter parking, cleaning ...
General points relating to child seats
Although one of CITROËN's main criteria when designing your vehicle, the safety of your children also depends on you. For maximum safety, please follow these precautions: - in accordance wi ...