Steering lock - Ignition - Starter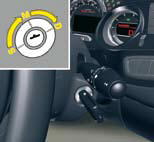 S: Steering lock
To unlock the steering, gently move the steering wheel while turning the key, without exerting undue force.
When you remove the key, turn your steering wheel to lock the steering. The key can only be removed when in position S.
NEVER REMOVE THE IGNITION KEY BEFORE THE ENGINE HAS COME TO A COMPLETE STOP.
IT IS ESSENTIAL AL WAYS TO DRIVE WITH THE ENGINE RUNNING , SO AS TO RETAIN STEERING AN D BRA KING ASSISTANCE (risk of the steering lock engaging and loss of safety features).
When stationary, having removed the key, carefully turn the steering wheel if you wish to lock the steering.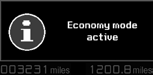 Economy mode
When the engine is stopped, some functions (audio system, screen wipe, electric windows, sunroof, electric seats, telephone, video, interior lighting etc.) are only electrically supplied for a maximum period of 30 minutes, to avoid discharging the battery.
Once this period is over, a message is displayed on the instrument panel screen and the active functions are placed on standby.
The electrical components relating to comfort and also the headlamps (not sidelamps or hazard warning lamps) cut out automatically. To reactivate them, it is necessary to start the engine.
See also:
Radio pre-equipment
CITROËN radio option See the separate instruction booklet in the vehicle document pack. Radio connections Consult your CITROËN dealer Fitting of front and rear loudspeakers Consult ...
Display A
Presentation: 1 - T ime 2 - D ate and Display zone 3 - A mbient temperature If the outside temperature is between +3 °C and -3 °C, the temperature display flashes (risk of ice). Note: The out ...
Safety
New Citroën C4 achieves the highest standards of safety and has already been awarded the maximum 5-star rating by independent assessors Euro NCAP, including a score of 97% in the 'Safety Assi ...