Bend lighting
With dipped or main beams, this function provides additional lighting for the inside of a bend.
This lighting is most useful when travelling at low and medium speed (urban driving, winding road, intersections...).
Operation
This lighting is activated past a certain angle of rotation of the steering wheel. It is deactivated with the vehicle stationary or at very low speed, or with reverse gear engaged.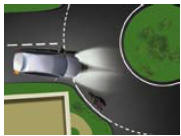 Without bend lighting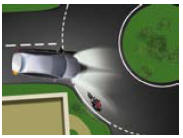 With bend lighting
See also:
Remote control problem
Following disconnection of the vehicle battery, replacement of the remote control battery or in the event of a remote control malfunction, you can no longer unlock, lock or locate your vehicle. F ...
Interior fittings
1. Sun visor 2. Glove box (see details on following page) 3. Storage compartments 4. Door tray 5. Upper storage compartment 6. Lower storage compartment with non-slip mat 7. USB port /Jack ...
The market
The new Citroën C4 is a desirable addition to the compact 5-door hatchback segment - an important class in the UK - which includes competitor models such as the Ford Focus, Vauxhall Astra and ...