Bend lighting
With dipped or main beams, this function provides additional lighting for the inside of a bend.
This lighting is most useful when travelling at low and medium speed (urban driving, winding road, intersections...).
Operation
This lighting is activated past a certain angle of rotation of the steering wheel. It is deactivated with the vehicle stationary or at very low speed, or with reverse gear engaged.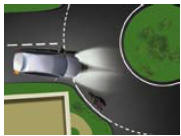 Without bend lighting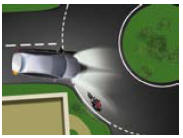 With bend lighting
See also:
Changing a bulb
Procedure for replacing a faulty bulb with a new bulb . In some climatic conditions (e.g. low temperature or humidity), the presence of misting on the internal surface of the glass of the headla ...
Ambience lighting
The dimmed passenger compartment lighting improves visibility in the vehicle when the light is poor. ...
Signalling
Direction indicators Left, downwards. Right, upwards. For a change of direction, move the control stalk beyond the tight spot. The indicator is automatically cancelled when the steering wheel r ...