Manual parking brake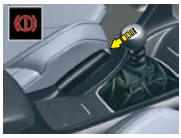 Parking brake
The parking brake is engaged, with the vehicle stationary, by pulling on the lever with a force appropriate to the slope.
To facilitate the action on the lever, you are recommended to press the brake pedal at the same time.
In all circumstances, as a precautionary measure, engage first gear.
On steep gradients, turn the steering towards the pavement.
To release the parking brake, press on the end of the lever whilst pulling it then lower it fully.
The warning lamp comes on if the parking brake is engaged or not fully released.


If the parking brake is released, the lighting of this warning lamp along with the STOP warning lamp indicates an insufficient level of brake fluid or a malfunction of the braking distribution.
It is essential to stop the vehicle.
Consult a CITROËN dealer as soon as possible.
See also:
Battery
Removal If the vehicle is fitted with an alarm, this should be deactivated before disconnecting the battery. Disconnect the battery leads, negative lead first. Refitting Ensure that the battery i ...
Putting the wheel back in place
Put the wheel back in its housing. Unscrew the yellow central bolt by a few turns then put it in place in the centre of the wheel. Tighten fully until the central bolt clicks to retain th ...
Citroen C5 HDi 200 dpfs, a blend of power and economy
A new engine is making its appearance in the Citroen C5 range, a new-generation 2.2 litre powerplant bringing across-the-board progress on power, torque, silence, fuel consumption and CO2 emission ...