Parking assistance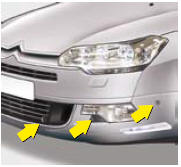 Front
Proximity sensors are located in the front and rear bumpers of your vehicle.
When manoeuvring whether forwards or in reverse, at a speed below approximately 10 km/h (6 mph), they warn you of the presence of any obstacle located within their detection zone, by means of:
A sound signal emitted by the front or rear loudspeakers.
Display of the outline of your vehicle with shading corresponding to the area where an obstacle is detected.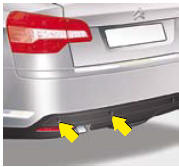 Rear
As the vehicle approaches the obstacle, the sound signal tells you the position of the obstacle according to whether the sound is coming from the front LH or RH or the rear LH or RH loudspeakers.
Note: The sound volume of your audio equipment reduces automatically when a signal is being emitted.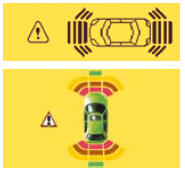 As the vehicle approaches the obstacle, the sound signal becomes more and more urgent and the shaded areas are displayed closer and closer to the vehicle.
When the obstacle is less than approximately 25 cms from your vehicle, the sound signal becomes continuous and a warning panel appears on the display.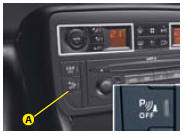 Activation/Deactivation
You can activate/deactivate the parking assistance by pressing button A. When the parking assistance is inactive, the warning lamp on button A is lit up.
Activation/deactivation of the parking assistance is memorised when you stop the vehicle.
Remark: If you are towing with a towing device not approved by CITROËN, it is necessary to deactivate parking assistance by pressing on button A. The warning lamp on the button lights up.
Operation
When you engage reverse gear, a sound signal confirms to you that the system is active. The outline of your vehicle appears on the screen. Any obstacles located to the rear or to the front of the vehicle can be detected.
When going forward and at a speed below approx. 10 km/h (6 mph), whether in neutral or in gear, the outline of the vehicle appears on the display as soon as an obstacle is detected in front of the vehicle. Obstacles located in front of the vehicle will be detected.
Remarks:
The proximity sensors cannot detect objects that are immediately under or over the bumpers.
A thin object such as a spike, a bollard or similar, can only be detected at the start of the manoeuvre but not when the vehicle arrives close up to it.
In poor weather or in winter, you need to ensure that the sensors are not covered with mud or with ice or snow.
See also:
Space, practicality & versatility
At 4.33m long, 1.79m wide and 1.49m high, new Citroën C4 is fractionally larger than its forerunner. Despite the model's compact external dimensions, there are generous internal volumes with ...
Mirrors
...
Engine oil level indicator
System which informs the driver whether the engine oil level is correct or not. This information is indicated for a few seconds when the ignition is switched on, after the service information. ...