Child safety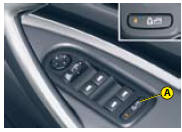 Electric operation
The child safety function is activated by pressing button A. This deactivates the controls in the rear of the vehicle, both for the rear windows and for opening the rear doors from the inside.
It is still possible to open the doors from the outside and to operate the electric windows from the front of the vehicle.
Note: The activation of this function is confirmed by a message on the instrument panel screen and the light on button A coming on.
If the light on button A flashes, the doors have not been closed properly.
The status of this function is memorised when the ignition is switched off.
The electric child safety is automatically deactivated in the event of a serious accident (e.g. triggering of an airbag).
Any variance in the behaviour of the light on button A (e.g. flashing when the doors are closed, going out whilst the function is activated...) indicates a malfunction of the child safety function. Contact a CITROËN dealer.
See also:
Access to the battery
The battery is located under the bonnet. To gain access to it: open the bonnet using the interior lever, then the exterior lever, secure the bonnet strut, remove the plastic cover by pull ...
Changing a fuse
Procedure for replacing a faulty fuse with a new fuse to rectify a failure of the corresponding function. ...
Windows
Electric windows The driver uses the controls located on the door to operate the vehicle's electric windows. Note: the electric windows can also be operated for a limited time after the igniti ...