Child safety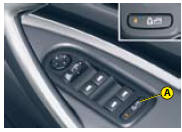 Electric operation
The child safety function is activated by pressing button A. This deactivates the controls in the rear of the vehicle, both for the rear windows and for opening the rear doors from the inside.
It is still possible to open the doors from the outside and to operate the electric windows from the front of the vehicle.
Note: The activation of this function is confirmed by a message on the instrument panel screen and the light on button A coming on.
If the light on button A flashes, the doors have not been closed properly.
The status of this function is memorised when the ignition is switched off.
The electric child safety is automatically deactivated in the event of a serious accident (e.g. triggering of an airbag).
Any variance in the behaviour of the light on button A (e.g. flashing when the doors are closed, going out whilst the function is activated...) indicates a malfunction of the child safety function. Contact a CITROËN dealer.
See also:
Fuel tank
1. Opening the fuel fi ller fl ap. 2. Opening and hooking the fuel fi ller cap. Tank capacity: - approximately 50 litres (petrol), - approximately 45 litres (Diesel). ...
General points relating to child seats
Although one of CITROËN's main criteria when designing your vehicle, the safety of your children also depends on you. For maximum safety, please follow these precautions: - in accordance wi ...
Speed limiter
This driving assistance device allows you to select a maximum speed that you wish not to exceed. This has to be a speed greater than 30 km/h (approx. 20 mph). The speed limiter controls are loca ...