Very cold protection
Moveable device which prevents the intake of snow particles, which could obstruct the air filter.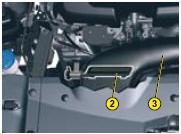 DIESEL ENGINE HDi 173 FAP
Normal situation
The shutter 2 is in a horizontal position in the air duct 3.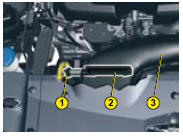 Snow situation
Push and rotate the knob 1 by 90 ° in the direction of the arrow in order to position the shutter 2 in a vertical position in the air duct 3.
Note : To return to the normal situation, push the knob 1 then rotate in the opposite direction.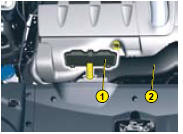 DIESEL ENGINE V6 HDi 208 FAP
Snow situation
Slide the deflector 1 into the air duct 2 and clip in.
It is essential to remove the very cold protection:
When the outside temperature exceeds 10 °C.
When driving at speeds of over 120 km/h (approximately 75 mph).
See also:
Locking rear doors
Manual operation Rear doors are locked by operating the lever on the rear face of the door in question. When the manual safety is in use, the aperture is horizontal. Electric operation The el ...
Front seat belts
A. Fitting the belt. B. Fastening. C. Check that the belt is correctly fastened by pulling on the belt webbing. ...
Safety advice
Any operation under the bonnet necessitates a number of safety precautions. Be particularly careful both before and during all checks under the bonnet: Allow the engine to cool down. Keep children ...