Rear head restraints
These have a high position (comfort) and a low position (rear visibility).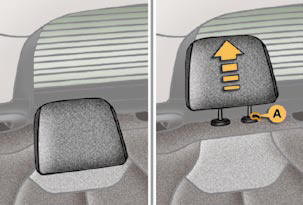 They can also be removed.
To remove a head restraint:
release the backrest using control 1 ,
tilt the backrest 2 slightly forwards,
pull the head restraint upwards to the stop,
then, press the lug A .
Never drive with the head restraints removed; they must be in place and correctly adjusted.
See also:
Identification markings
Various visible markings for the identifi - cation of your vehicle. A. Vehicle identifi cation number (VIN) under the bonnet. This number is engraved on the bodywork near the damper mounting. B. ...
Manual gearbox
5 speed gearbox Reverse gear Do not select reverse gear until the vehicle is completely stationary. Depress the clutch pedal and wait a few moments before gently engaging reverse gear. 6 spee ...
Overview
Making its world debut at the 2013 Geneva Motor Show, the new Citroen C3 strengthens and enhances the qualities of its predecessor. The result is even more C3 with new assets to win over customers ...