Rear head restraints
These have a high position (comfort) and a low position (rear visibility).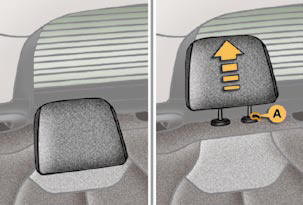 They can also be removed.
To remove a head restraint:
release the backrest using control 1 ,
tilt the backrest 2 slightly forwards,
pull the head restraint upwards to the stop,
then, press the lug A .
Never drive with the head restraints removed; they must be in place and correctly adjusted.
See also:
Towing
Towing (boat, caravan, etc.) Before departure: Check the tyre pressures of both car and trailer. Check all the exterior and signalling lamps of the car and trailer. Practice manoeuvring, especiall ...
Remote control problem
Following disconnection of the vehicle battery, replacement of the remote control battery or in the event of a remote control malfunction, you can no longer unlock, lock or locate your vehicle. F ...
Access to the battery
The battery is located under the bonnet. To gain access to it: open the bonnet using the interior lever, then the exterior lever, secure the bonnet strut, remove the plastic cover by pull ...