Special position of the windscreen wipers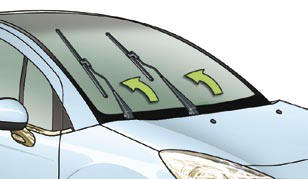 In the minute following switching off of the ignition, any action on the stalk positions the wipers vertically.
This action enables you to position the wiper blades for winter parking, cleaning or replacement without damaging the bonnet.
To park the wipers after this has been done, switch on the ignition and operate the stalk.
For optimum and lasting wiping of the "fl at-blade" wiper blades, it is advisable to:
- handle them with care,
- clean them regularly using soapy water,
- change them approximately every 6 months,
- avoid using them to retain cardboard on the windscreen.
See also:
Interior lamps
Interior lamps Unclip the transparent cover of the interior lamp to reach the bulb. Bulb: W 5W Spotlamp Detach the cover. To access the bulb, detach if necessary the partition of the affected s ...
Studio styling
Citroën's creative talent for innovative vehicle design manifests itself on every feature of the Citroën DS3. From all angles, the car's undeniable on-road presence and refreshing style ...
Fuel
A label on the inside of the fuel filler flap indicates the approved fuel quality type. DIESEL FUEL UNLEADED PETROL Petrol engines are designed to run on RON 95 fuel. However, for better ve ...