Engaging reverse gear
Raise the ring under the knob and push the gear lever to the left then forwards.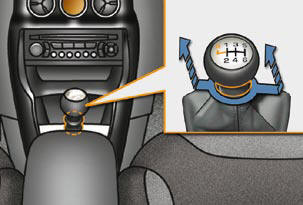 Only engage reverse gear when the vehicle is stationary with the engine at idle.
As a safety precaution and to facilitate starting of the engine:
- always select neutral,
- press the clutch pedal.
See also:
Fuel tank
1. Opening the fuel fi ller fl ap. 2. Opening and hooking the fuel fi ller cap. Tank capacity: - approximately 50 litres (petrol), - approximately 45 litres (Diesel). ...
Fuses on the battery
Fuses on the battery To access the fusebox on the battery, detach and remove the cover. After a repair, take care to reclose the cover. If the cover is not correctly positioned or not properly ...
Display configuration
Once this menu has been selected, you can gain access to the following settings: - brightness-video setting, - date and time setting, - selection of units. Once the fuel consumption units have b ...