Programming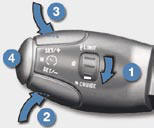 Turn thumb wheel 1 to the "CRUISE" position: the cruise control mode is selected but is not switched on (PAUSE).
Set the programmed speed by accelerating to the required speed, then press button 2 or 3 (e.g.: 70 mph (110 km/h)).
You can then change the programmed speed using buttons 2 and 3 :
- by + or - 1 mph (km/h) = short press,
- by + or - 5 mph (km/h) = long press,
- in steps of + or - 5 mph (km/h) = maintained press.
Switch off the cruise control by pressing button 4 : the display confi rms that it has been switched off (PAUSE).
Switch the cruise control back on by pressing button 4 again.
See also:
Programming
Various automatic wiper control modes are also available according to the following options: - automatic wiping for the windscreen wipers, - rear wiping on engaging reverse gear. Model with int ...
Interior lamps
Interior lamps Unclip the transparent cover of the interior lamp to reach the bulb. Bulb: W 5W Spotlamp Detach the cover. To access the bulb, detach if necessary the partition of the affected s ...
Changing a bulb
Procedure for replacing a faulty bulb with a new bulb . In some climatic conditions (e.g. low temperature or humidity), the presence of misting on the internal surface of the glass of the headla ...