Programming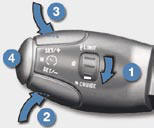 Turn thumb wheel 1 to the "CRUISE" position: the cruise control mode is selected but is not switched on (PAUSE).
Set the programmed speed by accelerating to the required speed, then press button 2 or 3 (e.g.: 70 mph (110 km/h)).
You can then change the programmed speed using buttons 2 and 3 :
- by + or - 1 mph (km/h) = short press,
- by + or - 5 mph (km/h) = long press,
- in steps of + or - 5 mph (km/h) = maintained press.
Switch off the cruise control by pressing button 4 : the display confi rms that it has been switched off (PAUSE).
Switch the cruise control back on by pressing button 4 again.
See also:
Anti-intrusion alarm
The anti-intrusion alarm provides: Exterior perimeter protection by means of detectors on the vehicle access points (doors, boot, bonnet). Electrical supply protection. Interior volumetric prot ...
Studio styling
Citroën's creative talent for innovative vehicle design manifests itself on every feature of the Citroën DS3. From all angles, the car's undeniable on-road presence and refreshing style ...
Diesel particulate filter system
Complementary to the catalytic converter, this filter makes an active contribution to the preservation of air quality by the retaining of the unburnt pollutant particles. Black exhaust fumes are t ...