Towing your vehicle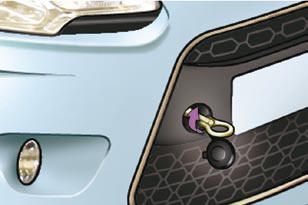 On the front bumper, unclip the cover by pressing at the bottom.
Screw the towing eye in fully.
Install the towing bar.
Switch on the hazard warning lamps on the towed vehicle.
Place the gear lever in neutral (position N for an automatic gearbox).
Failure to observe this special condition could result in damage to certain braking components and the absence of braking assistance the next time the engine is started.
See also:
Instrument panel
On opening the driver's door or unlocking with the remote control, for approximately 30 seconds the instrument panel is activated, displaying the mileage recorders and if applicable, the maintenan ...
Automatic windscreen wiping
The windscreen wipers operate automatically, without any action on the part of the driver, if rain is detected (sensor behind the interior mirror), adapting their speed to the intensity of the rai ...
Automatic gearbox
4 and 6 speed automatic gearbox Parking (Position P). Reverse gear (Position R). Neutral (Position N). The automatic gearbox offers you: Operation in auto-active mode, with automatic adaptati ...