Dark button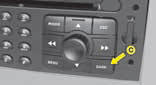 After the first press on control C, only the top part of the display remains illuminated.
A second press on control C triggers black panel mode.
BLACK PANEL
(with headlamps on)


This function switches off certain of the displays, for night driving. It can be activated:
- either by 2 presses on control C
- or by 1 press on control D if this control has been programmed with the black panel function.
The instrument panel continues to show vehicle speed as well as the cruise control and speed limiter functions if these are activated.
If there is an alert or a modification of functions or adjustments, black panel is interrupted.
To programme control D:
- give a long press on control D,
- then select the black panel function on the multifunction screen using the arrowed buttons on your radio/CD or Navidrive system. Validate with a press on "OK".
Note: the dashboard lighting rheostat still operates in black panel mode.
See also:
Vehicle identification
All original CITROËN replacement parts are available from CITROËN. It is in the user's interest, for his safety and for the sake of the warranty, to reject all other parts. Fitting par ...
HiFi system
The Hi-Fi system, custom built for your cabin, is made up of: A high power DSP (Digital Signal Processing) digital amplifier. A subwoofer bass box (30 Hz - 100 Hz). 8 specific loudspeakers. An MP3 ...
Electric parking brake
The electronic parking brake combines 2 operational modes: AUTOMATIC: Automatic application when the engine is stopped and automatic release on use of the accelerator (automatic operation by def ...