Navidrive display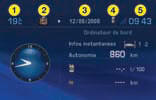 Presentation:
1 - A mbient temperature
2 - Directory
3 - Date
4 - Telephone
5 - Time
If the outside temperature is between +3 °C and -3 °C, the temperature display flashes (risk of ice).
Note: The outside temperature displayed may be higher than the actual temperature if the vehicle is standing in bright sunshine.
The driver is advised not to operate the controls when driving.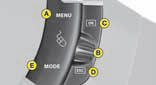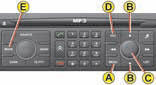 Controls
A - A ccess to the "Main menu".
B - S crolling in the display menus.
C - Validation and Selection in the menus, of the function chosen or value modified.
D - C ancellation of the operation or return to the previous display.
E - S election of the type of information you wish to see permanently displayed (date, radio-CD, trip computer) on the right of the screen.
Main menu
Press control A to display the "Main menu" for the multifunction screen.
This menu gives access to the following functions (See "Navidrive" instructions):

Navigation/guidance

Map

Traffic information

Audio

Audio

Configuration, for adjusting various parameters (date, time, units)

Video

Vehicle diagnosis
See also:
Engine oil level indicator
System which informs the driver whether the engine oil level is correct or not. This information is indicated for a few seconds when the ignition is switched on, after the service information. ...
Replacing a fuse
Fuse box There are two fuse boxes, one below the dashboard and one under the bonnet. Fuses under the dashboard To access the fuses below the dashboard, pull back the access cover, undo the screws ...
Automatic air conditioning
This system automatically regulates temperature, air flow and air distribution in the passenger compartment according to the temperature selected (for each side, right and left). It provides an ...