Doors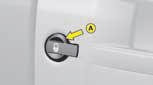 Locking the doors from the inside
With the doors closed, press button B once to operate the electric central locking and unlocking.
The doors can still be opened from inside.
The central locking will not operate if a door is open, or not properly closed.
The lamp on the control B can signal any of 3 statuses:
- It flashes if the doors are open when the vehicle is stationary, engine stopped.
- It lights up if the doors are locked and the ignition is switched on.
- It goes out if the doors are not locked.
Note: Control B is inactive if the vehicle has been locked with the remote control or with the key.
Personal security
When the vehicle is started, the system automatically locks the doors and tailgate as soon as you reach a speed of approx. 10 km/h (6 mph).
Note: If a door is opened, this door will automatically relock as soon as the vehicle reaches approx. 6 mph.
Activation/Deactivation of the function
After switching on the ignition, give a long press on the central unlocking button until a message is displayed.
If you decide to drive with the doors locked, remember that in the event of an accident this renders access more difficult for the emergency services.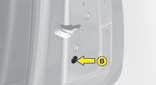 Manual operation (emergency mode)
In the event of an electrical fault, it is possible to lock the vehicle's doors by actioning control C on each door. With the door open, insert the end of a key or similar item into the aperture and turn.
Close the door.
After a repair, normal functioning resumes using either the unlocking control B, the remote control, or the key used in the driver's door.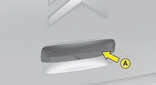 See also:
Monitoring
Instrument panel A. Fuel gauge and low fuel warning lamp. B. Cruise control/speed limiter information. C. Coolant temperature. D. Speed indicator. E. Instrument panel. F. Mileage recorder. G. ...
Automatic centralised control
System which provides full automatic locking or unlocking of the doors and the boot while driving. You can activate or deactivate this function. Locking When the speed exceeds 6 mph (10 km/h), t ...
Cruise control
System which automatically maintains the speed of the vehicle at the value programmed by the driver, without any action on the accelerator pedal. The cruise control is switched on manually: it re ...