Boot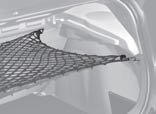 Luggage securing rings
Use the 2 side fi xings at the rear, as well as the 6 anchoring rings on the boot floor and the rear seat backrest, to secure your loads. For safety reasons, in case of hard braking, heavy objects should be placed as far forward as possible.
Protective net
This helps to secure objects stowed in the boot.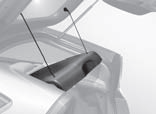 Removing the rear shelf (3- door model)
- Detach the cords.
- Carefully lift then pull, tilting it slightly on one side.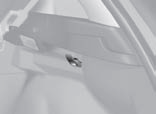 Boot hook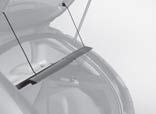 Removing the rear shelf (5- door model)
- Detach the cords.
- Carefully lift then pull.
Avoid using the rear shelf for heavy or hard items. These could be dangerous if thrown around during harsh braking or, if they touch the rear screen, could damage the heating elements.
See also:
Automatic gearbox
Four-speed automatic gearbox which offers a choice between the comfort of fully automatic operation, enhanced by sport and snow programmes, or manual gear changing. Therefore, four driving modes ...
Programmable heating
With the engine off, programmable heating preheats the coolant circuit in order to optimise the engine operating temperature prior to starting. The programmable heating system can be started imme ...
Wipers
FRONT WIPERS Control positions 2: Rapid wipe. 1: Normal wipe. I: Intermittent wipe. 0: Off. One press downwards: AUTO: Automatic wipe activated. Single wipe. Position I: The speed of the wi ...