Boot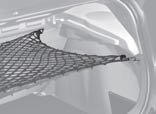 Luggage securing rings
Use the 2 side fi xings at the rear, as well as the 6 anchoring rings on the boot floor and the rear seat backrest, to secure your loads. For safety reasons, in case of hard braking, heavy objects should be placed as far forward as possible.
Protective net
This helps to secure objects stowed in the boot.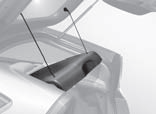 Removing the rear shelf (3- door model)
- Detach the cords.
- Carefully lift then pull, tilting it slightly on one side.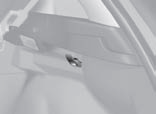 Boot hook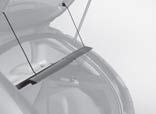 Removing the rear shelf (5- door model)
- Detach the cords.
- Carefully lift then pull.
Avoid using the rear shelf for heavy or hard items. These could be dangerous if thrown around during harsh braking or, if they touch the rear screen, could damage the heating elements.
See also:
Locking the vehicle with full alarm
Activation Switch off the ignition and get out of the vehicle. Lock or deadlock the vehicle using the locking button on the remote control. The alarm is activated; the indicator lamp o ...
Vehicle identification
A Chassis number plate On the left hand door centre pillar. 1. EU type approval number. 2. Vehicle identification No. (VIN). 3. Gross vehicle weight. 4. Gross train weight. 5. Maximum weight on ...
Ventilation
Front demisting - deicing Adjustment of temperature on passenger's side Passenger's side automatic operation Adjustment of air distribution on passenger's side Adjusting the air flow ...