Boot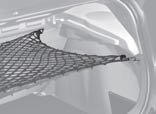 Luggage securing rings
Use the 2 side fi xings at the rear, as well as the 6 anchoring rings on the boot floor and the rear seat backrest, to secure your loads. For safety reasons, in case of hard braking, heavy objects should be placed as far forward as possible.
Protective net
This helps to secure objects stowed in the boot.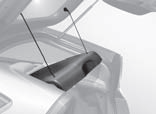 Removing the rear shelf (3- door model)
- Detach the cords.
- Carefully lift then pull, tilting it slightly on one side.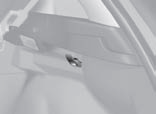 Boot hook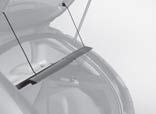 Removing the rear shelf (5- door model)
- Detach the cords.
- Carefully lift then pull.
Avoid using the rear shelf for heavy or hard items. These could be dangerous if thrown around during harsh braking or, if they touch the rear screen, could damage the heating elements.
See also:
Fragrance cartridge
This cartridge can be removed easily. The fi rst time it is used, replace the plug with a real cartridge You can change it at any time and store it in the sealed case which keeps it closed once i ...
Diesel injection equipment
Bleeding of water from the diesel fuel filter To be bled on a regular basis (at every oil change). To evacuate the water, slacken the bleed screw or the water in diesel fuel sensor, which is loca ...
Interior volumetric protection
The system detects any variation in the volume in the passenger compartment. The alarm is triggered if anyone breaks a window or moves inside the vehicle. If you wish to leave a pet in the vehicle ...