Windows
Electric operation
The driver uses the controls located on the door to operate the vehicle's electric windows.
Note: The windows can also be operated for a short period after the ignition has been switched off (including after the front doors have been opened).
Sequential operation
An action on the control to the first notch causes a window movement which stops as soon as the control is released.
An action on the control to the second notch causes the window to close or open completely, a further press on the control stops the movement.
Child safety
This deactivates the controls in the rear of the vehicle, both for the rear windows and for opening the rear doors from the inside.
This is activated by a press on button A located on the window control panel. The warning lamp on button A lights up.
A message on the instrument panel informs you of the activation/deactivation of child safety.
You can still open the doors from outside and operate the rear electric windows from the front of the vehicle.
Always pay attention to where children are when opening or closing the windows
Always remove the ignition key when leaving the vehicle, even if for a short time.
If the driver is operating the electric window controls for passengers, he or she should ensure that no passenger is obstructing the window from closing.
The driver must ensure that the electric windows are used properly by passengers.
Should there be any risk of a person becoming trapped by a window closing, you should immediately reverse the window movement. To do this, press on the control concerned.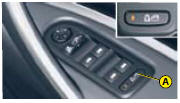 Anti-pinch
An anti-pinch device stops the window from rising. If it meets an obstacle, it goes back down.
If there is a malfunction, sequential operation is deactivated. When you raise the window again, press the control each time the window stops until you reach the desired position. You must then re-initialise the function for each electric window:
Lower the window fully using the control, then close. It will rise only a few centimetres.
Press repeatedly on the control until the window is fully closed.
Keep the control pressed down for at least 1 second having closed the window.

During this operation, the anti-pinch protection does not work.
See also:
Maintenance indicator
Maintenance indicator It informs you when the next routine service is due in accordance with the vehicle servicing schedule in the Maintenance Guide. This information is dependent on two paramete ...
Front airbags
System which protects the driver and front passenger in the event of a serious front impact in order to limit the risk of injury to the head and chest. The driver's airbag is incorporated in the ...
Manual controls
The lighting commands are issued directly by the driver by means of the ring A and the stalk B . Model without AUTO lighting Model with AUTO lighting A. Main lighting mode selection ring, wi ...