Handbrake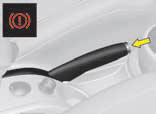 The parking brake is applied, with the vehicle stationary, by pulling on the lever with a force that is proportionate to the steepness of the slope. To facilitate the action on the lever, you are recommended to press the brake pedal at the same time. In all circumstances, as a precautionary measure, engage first gear. For vehicles equipped with an automatic gearbox, ensure that the parking position (P) is selected. On steep slopes, turn the steering wheel towards the kerb.
To release the handbrake, press on the end of the lever, pull the lever up then lower it fully.
The warning lamp will come on if the handbrake is on or not fully released.
Before leaving the vehicle, make sure that the parking brake is sufficiently applied to prevent the vehicle from moving if on a slope, or if accidentally or deliberately pushed.
As an additional precaution on steep slopes:
Apply the parking brake.
Engage a gear.
Turn the steering wheel towards the kerb (if there is one).
See also:
"Hydractive III+" suspension
"Hydractive III +" suspension automatically adjusts to road surface conditions and driving style. It allows you to alternate between soft and firm suspension settings, maximising comfort at the ...
Comfort
...
Anti-theft protection
Electronic engine immobiliser The key contains an electronic chip which has a special code. When the ignition is switched on, this code must be recognised in order for starting to be possible. T ...