Handbrake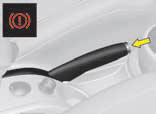 The parking brake is applied, with the vehicle stationary, by pulling on the lever with a force that is proportionate to the steepness of the slope. To facilitate the action on the lever, you are recommended to press the brake pedal at the same time. In all circumstances, as a precautionary measure, engage first gear. For vehicles equipped with an automatic gearbox, ensure that the parking position (P) is selected. On steep slopes, turn the steering wheel towards the kerb.
To release the handbrake, press on the end of the lever, pull the lever up then lower it fully.
The warning lamp will come on if the handbrake is on or not fully released.
Before leaving the vehicle, make sure that the parking brake is sufficiently applied to prevent the vehicle from moving if on a slope, or if accidentally or deliberately pushed.
As an additional precaution on steep slopes:
Apply the parking brake.
Engage a gear.
Turn the steering wheel towards the kerb (if there is one).
See also:
Operating faults
If there is an operating fault, when reverse gear is engaged the service warning lamp comes on, accompanied by an audible signal (short beep) and a message on the multifunction screen. In bad or ...
Lane Departure Warning System
This driving assistance device warns you when you unwittingly cross a lane marking (either a continuous or a dotted line on the road surface). It is designed for use on motorways and dual carriage ...
Black panel
System allowing certain displays to be switched off for night driving. The instrument panel remains lit with the vehicle speed and cruise control or speed limiter information, if in use. If the ...