Handbrake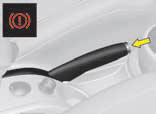 The parking brake is applied, with the vehicle stationary, by pulling on the lever with a force that is proportionate to the steepness of the slope. To facilitate the action on the lever, you are recommended to press the brake pedal at the same time. In all circumstances, as a precautionary measure, engage first gear. For vehicles equipped with an automatic gearbox, ensure that the parking position (P) is selected. On steep slopes, turn the steering wheel towards the kerb.
To release the handbrake, press on the end of the lever, pull the lever up then lower it fully.
The warning lamp will come on if the handbrake is on or not fully released.
Before leaving the vehicle, make sure that the parking brake is sufficiently applied to prevent the vehicle from moving if on a slope, or if accidentally or deliberately pushed.
As an additional precaution on steep slopes:
Apply the parking brake.
Engage a gear.
Turn the steering wheel towards the kerb (if there is one).
See also:
Diesel injection equipment
Bleeding of water from the diesel fuel filter To be bled on a regular basis (at every oil change). To evacuate the water, slacken the bleed screw or the water in diesel fuel sensor, which is loca ...
Interior
Dual-zone automatic air conditioning This function enables you to adjust the comfort levels of the driver and the front passenger independently. It is also automatically regulated depending on th ...
Interior rear view mirror
Manual interior mirror The lever on the lower edge enables you to place the rear view mirror in either of two positions: Day position: the lever is not visible. Night position (antidazzle): the ...