Diesel injection equipment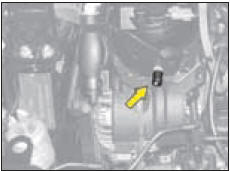 Bleeding of water from the diesel fuel filter
To be bled on a regular basis (at every oil change). To evacuate the water, slacken the bleed screw or the water in diesel fuel sensor, which is located at the base of the filter, until water ceases to flow out. Then retighten the bleed screw or the water in diesel fuel sensor.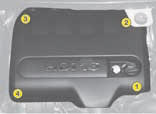 Protection cover
HDi 135 and 140 engines
Remove the protection cover by first unclipping point 1, then 3 and 4. Detach point 2 by pulling towards you, then lift. To reposition the protection cover, attach point 2 first. Lower the cover, keeping it centred. Clip points 1 and 4, pushing vertically and slightly rearwards. Clip point 3 pushing down vertically.
HDi engines are of a highly technical nature. All maintenance and repairs require specific qualifications which only your CITROËN Dealer can guarantee.
See also:
Bluetooth®
Your audio system may be Bluetooth® compatible. It allows you to connect a mobile telephone for use "hands free" and even to use its directory. It permits you to twin up to four telephones, to be a ...
A new automotive experience
The new Citroen C3 retains a feature central to its unique personality: the Zenith windscreen, providing best-in-segment visibility. Bringing the landscape into the cabin, this true technological ...
Daytime running lamps
On vehicles fi tted with daytime running lamps, the dipped beams come on when the vehicle is started. This warning lamp comes on on the instrument panel. The instruments and controls (instrumen ...