Child safety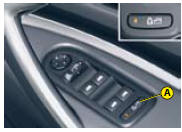 Electric operation
The child safety function is activated by pressing button A. This deactivates the controls in the rear of the vehicle, both for the rear windows and for opening the rear doors from the inside.
It is still possible to open the doors from the outside and to operate the electric windows from the front of the vehicle.
Note: The activation of this function is confirmed by a message on the instrument panel screen and the light on button A coming on.
If the light on button A flashes, the doors have not been closed properly.
The status of this function is memorised when the ignition is switched off.
The electric child safety is automatically deactivated in the event of a serious accident (e.g. triggering of an airbag).
Any variance in the behaviour of the light on button A (e.g. flashing when the doors are closed, going out whilst the function is activated...) indicates a malfunction of the child safety function. Contact a CITROËN dealer.
See also:
From outside
After unlocking the vehicle using the remote control or the key, pull the door handle. ...
"Hydractive III+" suspension
"Hydractive III +" suspension automatically adjusts to road surface conditions and driving style. It allows you to alternate between soft and firm suspension settings, maximising comfort at the ...
Access to the tools
The extraction pliers and the spare fuse storage locations are fi tted to the back of the dashboard fusebox cover. For access to them: open the glove box lid, unclip the fusebox cover by pull ...