Child safety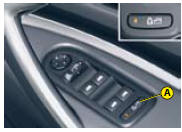 Electric operation
The child safety function is activated by pressing button A. This deactivates the controls in the rear of the vehicle, both for the rear windows and for opening the rear doors from the inside.
It is still possible to open the doors from the outside and to operate the electric windows from the front of the vehicle.
Note: The activation of this function is confirmed by a message on the instrument panel screen and the light on button A coming on.
If the light on button A flashes, the doors have not been closed properly.
The status of this function is memorised when the ignition is switched off.
The electric child safety is automatically deactivated in the event of a serious accident (e.g. triggering of an airbag).
Any variance in the behaviour of the light on button A (e.g. flashing when the doors are closed, going out whilst the function is activated...) indicates a malfunction of the child safety function. Contact a CITROËN dealer.
See also:
Starting using another battery
Connect the red cable to the positive terminal (+) of the fl at battery A , then to the positive terminal (+) of the slave battery B . Connect one end of the green or black cable to ...
Operating fault
In the event of a fault with the brightness sensor, the lighting come on, this warning lamp is displayed on the instrument panel and/or a message appears on the multifunction screen, accompanied ...
Child seats recommended by citroen
CITROËN offers a complete range of recommended child seats which are secured using a three point seat belt : ...