Child safety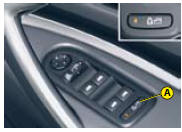 Electric operation
The child safety function is activated by pressing button A. This deactivates the controls in the rear of the vehicle, both for the rear windows and for opening the rear doors from the inside.
It is still possible to open the doors from the outside and to operate the electric windows from the front of the vehicle.
Note: The activation of this function is confirmed by a message on the instrument panel screen and the light on button A coming on.
If the light on button A flashes, the doors have not been closed properly.
The status of this function is memorised when the ignition is switched off.
The electric child safety is automatically deactivated in the event of a serious accident (e.g. triggering of an airbag).
Any variance in the behaviour of the light on button A (e.g. flashing when the doors are closed, going out whilst the function is activated...) indicates a malfunction of the child safety function. Contact a CITROËN dealer.
See also:
Interior lighting
1 - Spotlamps A press on one of the buttons will switch the corresponding spotlamp on or off. They will not come on if the ignition is switched off or the vehicle is in economy mode. 2 - Front ...
Checking levels
Check all of these levels regularly and top them up if necessary, unless otherwise indicated. If a level drops signifi cantly, have the corresponding system checked by a CITROËN dealer. Oil ...
Cruise control
This driving assistance function allows you to drive at the speed of your choice without the need to action the accelerator. This system is available above 40 km/h (25 mph), with 4th gear or hig ...