Child safety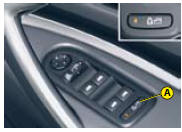 Electric operation
The child safety function is activated by pressing button A. This deactivates the controls in the rear of the vehicle, both for the rear windows and for opening the rear doors from the inside.
It is still possible to open the doors from the outside and to operate the electric windows from the front of the vehicle.
Note: The activation of this function is confirmed by a message on the instrument panel screen and the light on button A coming on.
If the light on button A flashes, the doors have not been closed properly.
The status of this function is memorised when the ignition is switched off.
The electric child safety is automatically deactivated in the event of a serious accident (e.g. triggering of an airbag).
Any variance in the behaviour of the light on button A (e.g. flashing when the doors are closed, going out whilst the function is activated...) indicates a malfunction of the child safety function. Contact a CITROËN dealer.
See also:
e-HDi micro-hybrid technology for spectacular results
The Citroen C5 inaugurates the new micro-hybrid technology that will be widely applied to numerous models in the range. Initially it will be available with the HDi 110 DPFS version equipped with t ...
Overview
Citroën has announced the new Citroën DS3 will be unveiled at the Frankfurt Motor Show 2009. The Citroën DS3 will be the first model from Citroën's brand new DS line, a product ...
Charging the battery using a battery charger
Disconnect the battery from the vehicle. Follow the instructions for use provided by the manufacturer of the charger. Reconnect starting with the negative terminal (-). Check that the t ...