Child safety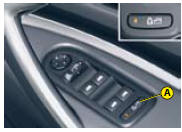 Electric operation
The child safety function is activated by pressing button A. This deactivates the controls in the rear of the vehicle, both for the rear windows and for opening the rear doors from the inside.
It is still possible to open the doors from the outside and to operate the electric windows from the front of the vehicle.
Note: The activation of this function is confirmed by a message on the instrument panel screen and the light on button A coming on.
If the light on button A flashes, the doors have not been closed properly.
The status of this function is memorised when the ignition is switched off.
The electric child safety is automatically deactivated in the event of a serious accident (e.g. triggering of an airbag).
Any variance in the behaviour of the light on button A (e.g. flashing when the doors are closed, going out whilst the function is activated...) indicates a malfunction of the child safety function. Contact a CITROËN dealer.
See also:
Lighting rheostat
System for manual adjustment of the brightness of the instruments and controls in relation to the exterior brightness. Activation When the lighting is on: press the button to change the br ...
Programming
Various automatic wiper control modes are also available according to the following options: - automatic wiping for the windscreen wipers, - rear wiping on engaging reverse gear. Model with int ...
Airbags
Front passenger's airbag deactivation In order to be able to use a rearfacing child seat in the front passenger's seat position, it is imperative to deactivate the passenger's airbag. ...