Replacing bulbs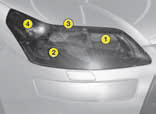 See also:
Changing a fuse
Before changing a fuse, the cause of the failure must be identifi ed and rectifi ed. Identify the faulty fuse by checking the condition of its fi lament. Correct Incorrect Use the special ...
Exiting economy mode
These functions are reactivated automatically the next time the vehicle is driven. In order to resume the use of these functions immediately, start the engine and let it run for a few minutes. T ...
Brakes
Braking system Your vehicle's most important safety feature, the braking system, is provided by brake discs (or discs and drums) and a dual hydraulic circuit. When the engine is running, power as ...