Replacing a fuse
Fuse box
There are two fuse boxes, one below the dashboard and one under the bonnet.
Fuses under the dashboard
To access the fuses below the dashboard, pull back the access cover, undo the screws a quarter turn and tilt the whole unit.
Replacing a fuse
Before replacing a fuse, it is essential to find the cause of the incident and to rectify it. The fuse identification numbers are indicated inside the fuse box.
Replace a blown fuse with one of the same rating (the same colour)
Use the special pliers A stowed on the cover close to the fuseboxes, this includes a compartment for replacement fuses.
Good

Faulty

Tool A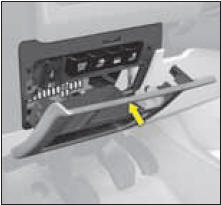 Access to the first fusebox under the dashboard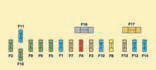 Fuses under the dashboard
Your vehicle's electrical system is designed to operate with standard or optional equipment. Before installing other electrical equipment or accessories in your vehicle, contact a CITROËN dealer. CITROËN will not accept responsability for the cost incurred in repairing your vehicle or for rectifying the malfunctions resulting from the installation of accessories not supplied and not recommended by CITROËN and not installed in accordance with its instructions, in particular when the consumption of all of the additional equipment connected exceeds 10 milliamperes.
See also:
Storage drawer
The storage drawer is located under the front passenger's seat. Opening Raise the front of the drawer and pull it. Removal Bring the drawer to the end of its travel. Press the ends of t ...
Starting using another battery
Connect the red cable to the positive terminal (+) of the fl at battery A , then to the positive terminal (+) of the slave battery B . Connect one end of the green or black cable to ...
e-HDi micro-hybrid technology for spectacular results
The Citroen C5 inaugurates the new micro-hybrid technology that will be widely applied to numerous models in the range. Initially it will be available with the HDi 110 DPFS version equipped with t ...