Caution - towing a vehicle with automatic transmission
Put the selector lever in position N (neutral).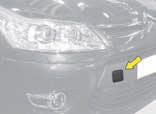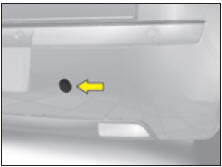 Towing with all wheels on the ground
Towing ring fixings are placed at the front and at the rear of the vehicle.
To access them:
- at the front: push on the left to tilt the cover, then remove it.
- at the rear: push at bottom, then pull on top.
The cover remains attached to the bumper by means of a tab, so that it cannot become lost.
The ignition key should be in position "M" so as to retain steering.
Use a bar with hooks to attach on the towing rings.
Vehicles with manual transmission
For vehicles with manual transmission, the gear lever must be in neutral. Failure to observe this requirement can lead to the failure of certain braking components and a lack of braking assistance on restarting the engine.
If the engine is not running, the steering and braking systems will not be power-assisted. If towing another vehicle, the latter should be free-wheeling (that is, gearbox in neutral).
See also:
Activation
The airbags are triggered simultaneously, unless the passenger's front airbag is disarmed, in the event of a serious front impact applied to all or part of the front impact zone A , in the longitu ...
Front seat belts and passenger's front airbag
A. Front seat belts not fastened or unfastened warning lamp. B. Front passenger's airbag deactivation indicator lamp. C. Front passenger's airbag activation indicator lamp. ...
Main Menu
The instrument panel B is located in the centre of the dashboard. With the vehicle stationary, you can access the main menu of the instrument panel by quickly pressing on the left-hand rotating c ...