Monitoring
Instrument panel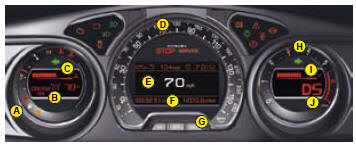 A. Fuel gauge and low fuel warning lamp.
B. Cruise control/speed limiter information.
C. Coolant temperature.
D. Speed indicator.
E. Instrument panel.
F. Mileage recorder.
G. Trip mileage recorder reset button.
H. Rev counter.
I. Engine oil temperature.
J. Display of automatic gearbox information.
Hazard warning lamps

The hazard lamps can also be used with the ignition switched off.
Note: When the ignition is switched on, the orange and red warning lamps light up.
When the engine is running, these warning lamps should go out.
If any warning lamps remain lit, refer to the relevant page.
Tyre deflation detection


The tyre deflation detection system is a driving aid which informs you of the condition of your tyres.
It does not replace either vigilance or responsibility on the part of the driver.
Log of alerts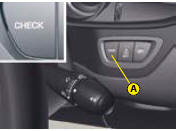 This function allows you to display the log of alerts.
Press on button A. The following messages appear consecutively on the instrument panel screen:
Tyre pressure check.
Maintenance indicator reminder.
Display of message alerts.
Oil level check.
Economy mode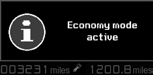 When the engine is stopped, some functions (audio system, screen wipe, electric windows, sunroof, electric seats, telephone, video, interior lighting etc.) are only electrically supplied for a maximum period of 30 minutes, to avoid discharging the battery.
Once this period is over, a message is displayed on the instrument panel screen and the active functions are placed on standby.
These functions will be automatcially reactivated when the vehicle is restarted.
See also:
Electrical adjustments
To adjust the electrical seats, switch on the ignition or start the engine if the vehicle has gone into economy mode. 1. Adjustment of the seat height and angle, and longitudinal adjustment a Ra ...
Anti-intrusion alarm
The anti-intrusion alarm provides: Exterior perimeter protection by means of detectors on the vehicle access points (doors, boot, bonnet). Electrical supply protection. Interior volumetric prot ...
Getting started
Front seats Manual adjustments A. Adjustment of the backrest angle. B. Adjustment of the seat height and angle. C. Heated seat control. D. Longitudinal adjustment of seat. E. Adjustment of the ...