Bend lighting
With dipped or main beams, this function provides additional lighting for the inside of a bend.
This lighting is most useful when travelling at low and medium speed (urban driving, winding road, intersections...).
Operation
This lighting is activated past a certain angle of rotation of the steering wheel. It is deactivated with the vehicle stationary or at very low speed, or with reverse gear engaged.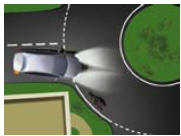 Without bend lighting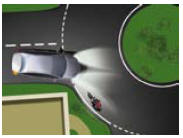 With bend lighting
See also:
Petrol engines
They give access for checking the levels of the various fluids and the replacement of certain items. 1. Power steering reservoir. 2. Screen and headlamp wash reservoir. 3. Engine coolant. 4. Bra ...
Speed limiter
This driving assistance device allows you to select a maximum speed that you wish not to exceed. This has to be a speed greater than 30 km/h (approx. 20 mph). The speed limiter controls are loca ...