Bend lighting
With dipped or main beams, this function provides additional lighting for the inside of a bend.
This lighting is most useful when travelling at low and medium speed (urban driving, winding road, intersections...).
Operation
This lighting is activated past a certain angle of rotation of the steering wheel. It is deactivated with the vehicle stationary or at very low speed, or with reverse gear engaged.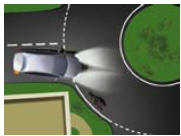 Without bend lighting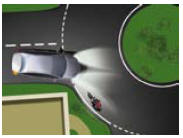 With bend lighting
See also:
General functions -Audio adjustments
On / Off With the key in Drive position M, press on control A to switch the radio on or off. Note: If the radio was on the last time you switched off the ignition, it will resume automatically w ...
Special position of the windscreen wipers
In the minute following switching off of the ignition, any action on the stalk positions the wipers vertically. This action enables you to position the wiper blades for winter parking, cleaning ...
Automatic gearbox
The automatic gearbox offers: D: operation in auto-active automatic mode, adapting automatically to your style of driving. M: operation in sequential mode, with manual gear changing. D and a pr ...