Bend lighting
With dipped or main beams, this function provides additional lighting for the inside of a bend.
This lighting is most useful when travelling at low and medium speed (urban driving, winding road, intersections...).
Operation
This lighting is activated past a certain angle of rotation of the steering wheel. It is deactivated with the vehicle stationary or at very low speed, or with reverse gear engaged.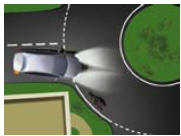 Without bend lighting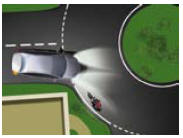 With bend lighting
See also:
Exceeding the programmed speed
Pressing the accelerator pedal to exceed the programmed speed will not have any effect unless you press the pedal fi rmly past the point of resistance . The speed limiter is deactivated temporarily ...
Manual gearbox
5 speed gearbox Reverse gear Do not select reverse gear until the vehicle is completely stationary. Depress the clutch pedal and wait a few moments before gently engaging reverse gear. 6 spee ...
Screen
A. Speed limiter (mph or km/h) or Cruise control. B. Gear change indicator. C. Automatic gearbox information. D. Range (miles or km) or Trip mileage recorder. E. Service indicator (miles or ...