Memorisation of driver's adjustments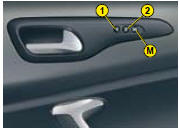 The memorisation function allows you to make the following dashboard adjustments:
Driver's seat.
Exterior rear view mirrors.
Air conditioning (temperature and air flow).
You have the possibility to memorise two driving positions using buttons 1 and 2.
Memorisation of driving positions
a. Place the igntion key in "Drive" position (second position).
b Adjust your seat, the exterior rear view mirrors and the air conditioning.
c Press successively on button M then on button 1 (first driving position) or 2 (second driving position).
The memorisation is confirmed by a sound signal.
Note: The memorisation of a new driving position cancels and replaces the previous one.
Recall of a memorised driving position
Vehicle stationary (ignition on or engine runnin
Press briefly on button 1 or 2 to recall the corresponding memorised position.
The completion of the adjustments is confirmed by a sound signal.
Vehicle in motion
Keep button 1 or 2 pressed down to recall the corresponding memorised position.
See also:
Intelligent architecture for one of the most compact models in the segment
The new Citroen C3 is one of the most compact vehicles in its segment. At 3.94 m long and 1.71 m wide with a 10.8 m turning circle, it is perfectly dimensioned for city driving. The compact exte ...
Trip distance recorder
System which measures a distance travelled during a day or other period since it was reset to zero by the driver. With the ignition on, press the button until zeros appear. ...
Daytime running lamps
On vehicles fi tted with daytime running lamps, the dipped beams come on when the vehicle is started. This warning lamp comes on on the instrument panel. The instruments and controls (instrumen ...