Memorisation of driver's adjustments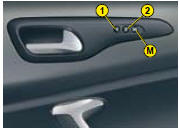 The memorisation function allows you to make the following dashboard adjustments:
Driver's seat.
Exterior rear view mirrors.
Air conditioning (temperature and air flow).
You have the possibility to memorise two driving positions using buttons 1 and 2.
Memorisation of driving positions
a. Place the igntion key in "Drive" position (second position).
b Adjust your seat, the exterior rear view mirrors and the air conditioning.
c Press successively on button M then on button 1 (first driving position) or 2 (second driving position).
The memorisation is confirmed by a sound signal.
Note: The memorisation of a new driving position cancels and replaces the previous one.
Recall of a memorised driving position
Vehicle stationary (ignition on or engine runnin
Press briefly on button 1 or 2 to recall the corresponding memorised position.
The completion of the adjustments is confirmed by a sound signal.
Vehicle in motion
Keep button 1 or 2 pressed down to recall the corresponding memorised position.
See also:
Additional adjustments
Head restraint height adjustment To raise the head restraint, pull it forwards and upwards at the same time. To remove the head restraint, press the lug A and pull the head restraint upwards ...
Locking rear doors
Manual operation Rear doors are locked by operating the lever on the rear face of the door in question. When the manual safety is in use, the aperture is horizontal. Electric operation The el ...
Anti-intrusion alarm
The anti-intrusion alarm provides: Exterior perimeter protection by means of detectors on the vehicle access points (doors, boot, bonnet). Electrical supply protection. Interior volumetric prot ...