Memorisation of driver's adjustments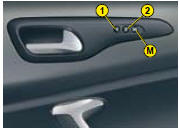 The memorisation function allows you to make the following dashboard adjustments:
Driver's seat.
Exterior rear view mirrors.
Air conditioning (temperature and air flow).
You have the possibility to memorise two driving positions using buttons 1 and 2.
Memorisation of driving positions
a. Place the igntion key in "Drive" position (second position).
b Adjust your seat, the exterior rear view mirrors and the air conditioning.
c Press successively on button M then on button 1 (first driving position) or 2 (second driving position).
The memorisation is confirmed by a sound signal.
Note: The memorisation of a new driving position cancels and replaces the previous one.
Recall of a memorised driving position
Vehicle stationary (ignition on or engine runnin
Press briefly on button 1 or 2 to recall the corresponding memorised position.
The completion of the adjustments is confirmed by a sound signal.
Vehicle in motion
Keep button 1 or 2 pressed down to recall the corresponding memorised position.
See also:
Access to the battery
The battery is located under the bonnet. To gain access to it: open the bonnet using the interior lever, then the exterior lever, secure the bonnet strut, remove the plastic cover by pull ...
Fuel consumption
(a) .../1: fi tted with low rolling resistance tyres to reduce consumption and emissions of CO2. The fuel consumption fi gures shown here correspond to the values communicated at the time of prin ...
Screen
A. Ambient temperature. (°Celsius or °Fahrenheit) B. Gear change indicator. C. Time. D. Engine oil level indicator. Appears a few seconds after switching on the ignition, then disappears. E. ...