Memorisation of driver's adjustments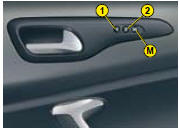 The memorisation function allows you to make the following dashboard adjustments:
Driver's seat.
Exterior rear view mirrors.
Air conditioning (temperature and air flow).
You have the possibility to memorise two driving positions using buttons 1 and 2.
Memorisation of driving positions
a. Place the igntion key in "Drive" position (second position).
b Adjust your seat, the exterior rear view mirrors and the air conditioning.
c Press successively on button M then on button 1 (first driving position) or 2 (second driving position).
The memorisation is confirmed by a sound signal.
Note: The memorisation of a new driving position cancels and replaces the previous one.
Recall of a memorised driving position
Vehicle stationary (ignition on or engine runnin
Press briefly on button 1 or 2 to recall the corresponding memorised position.
The completion of the adjustments is confirmed by a sound signal.
Vehicle in motion
Keep button 1 or 2 pressed down to recall the corresponding memorised position.
See also:
Operating fault
If this warning lamp comes on, accompanied by an audible signal and a message on the multifunction screen, this indicates a malfunction of these systems. Have the systems checked by a CITRO&Eu ...
Identification markings
Various visible markings for the identifi - cation of your vehicle. A. Vehicle identifi cation number (VIN) under the bonnet. This number is engraved on the bodywork near the damper mounting. B. ...
Efficient engineering
Citroën has utilised the latest industrial technologies, along with a 'part by part' focus on reducing the weight and number of components in new C4. For example, the laser welding on the roo ...