Electronic stability programme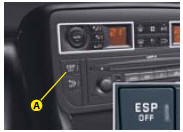 Electronic Stability Programme (ESP) and Traction Control (ASR)
These systems are closely associated with ABS and additional to it.
In the event of a loss of control of the vehicle by the driver, the ESP system acts automatically on one or more wheels and also on the engine to bring the vehicle back on trajectory. The ASR system optimises traction and prevents wheel spin by acting on the brakes of the driving wheels as well as on the engine. It also improves steering stability during acceleration.
Operation

If either of the ESP or ASR systems is active, the warning lamp flashes.
Deactivation
In exceptional conditions (vehicle stuck in snow, soft ground, etc.) it may prove useful to deactivate the ESP/ASR systems to allow the wheels to spin and thus regain traction.
Press on control A, the warning lamp and the light on control A light up. The ESP/ASR systems are no longer active.
The ESP/ASR systems will activate again:
Automatically after the ignition has been switched off.
Automatically when you drive at above approx. 50 km/h (approx. 30 mph).
Manually with another press on button A.
Operational anomaly
If there is a system fault, the warning lamp lights up, accompanied by a message on the instrument panel screen, the lighting of the SERVI CE warning lamp and a beep.
Contact a CITROËN dealer to have the system checked.
The ESP system offers increased driving safety but is not in place to encourage the driver to take additional risks or to drive at excessive speeds.
The functioning of this system is subject to compliance with the manufacturer's recommendations on wheels (tyres and rims), brake parts and electronic components, as well as with the assembly and repair procedures approved by CITROËN.
After any collision, contact a CITROËN dealer.
See also:
Driving
Ignition switch • S: Steering lock To free the steering, turn the steering wheel slightly at the same time as turning the key, avoiding any undue force. • M: Ignition • D: Starter Release the ...
Studio styling
Citroën's creative talent for innovative vehicle design manifests itself on every feature of the Citroën DS3. From all angles, the car's undeniable on-road presence and refreshing style ...
Zenith windscreen
System comprising a panoramic tinted glass area to increase lighting and vision in the cabin. Fitted with a manual blind to improve thermal comfort and sun visors to avoid dazzle. ...