Boot (saloon)
1 Battery for vehicles with V6 HDi engine.
2 Pull strap (spare wheel storage).
3 Boot lamp.
4 6 CD changer.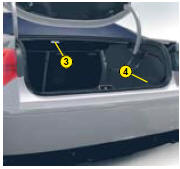 Luggage securing rings
Use the 4 securing rings on the boot floor to secure your luggage.
For safety reasons, in case of the need for sharp braking, you are advised to place heavy objects as far forward in the boot as possible.