Very cold protection
Moveable device which prevents the intake of snow particles, which could obstruct the air filter.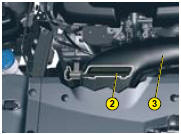 DIESEL ENGINE HDi 173 FAP
Normal situation
The shutter 2 is in a horizontal position in the air duct 3.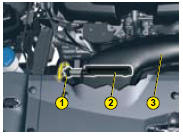 Snow situation
Push and rotate the knob 1 by 90 ° in the direction of the arrow in order to position the shutter 2 in a vertical position in the air duct 3.
Note : To return to the normal situation, push the knob 1 then rotate in the opposite direction.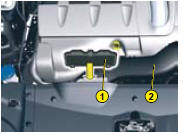 DIESEL ENGINE V6 HDi 208 FAP
Snow situation
Slide the deflector 1 into the air duct 2 and clip in.
It is essential to remove the very cold protection:
When the outside temperature exceeds 10 °C.
When driving at speeds of over 120 km/h (approximately 75 mph).
See also:
Seat belts
Seat belt height adjustment (5-door model) The correct positioning for the seat belt anchorage is mid-shoulder height. To adjust it, pinch the control and slide it in the desired direction. Ho ...
Navigation
Information for two journeys 1 and 2 A first rotation of control knob A on the steering wheel allows you to display the information for journey 1. Average speed This is calculated (since the la ...
A few definitions…
Range (miles or km) This indicates the distance which can still be travelled with the fuel remaining in the tank in relation to the average consumption over the last few miles (kilometres) tra ...