Very cold protection
Moveable device which prevents the intake of snow particles, which could obstruct the air filter.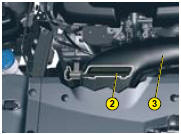 DIESEL ENGINE HDi 173 FAP
Normal situation
The shutter 2 is in a horizontal position in the air duct 3.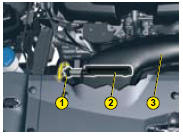 Snow situation
Push and rotate the knob 1 by 90 ° in the direction of the arrow in order to position the shutter 2 in a vertical position in the air duct 3.
Note : To return to the normal situation, push the knob 1 then rotate in the opposite direction.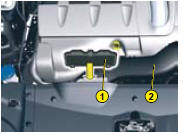 DIESEL ENGINE V6 HDi 208 FAP
Snow situation
Slide the deflector 1 into the air duct 2 and clip in.
It is essential to remove the very cold protection:
When the outside temperature exceeds 10 °C.
When driving at speeds of over 120 km/h (approximately 75 mph).
See also:
Hands-free telephone
Your audio system may be Bluetooth® compatible. It allows you to connect a mobile telephone for "hands free" use and even to use its directory. It permits you to twin up to four telephon ...
Fuel consumption
These consumption values are established in compliance with European directive 80/1268/CEE. They can vary depending on how the vehicle is driven, on the prevailing traffic conditions, on weather ...
Folding the backrest
Move the corresponding front seat forward if necessary. Check that the seat belt is positioned correctly on the side of the seat back. Place the head restraints in the low position. &n ...