Very cold protection
Moveable device which prevents the intake of snow particles, which could obstruct the air filter.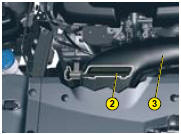 DIESEL ENGINE HDi 173 FAP
Normal situation
The shutter 2 is in a horizontal position in the air duct 3.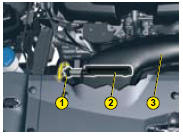 Snow situation
Push and rotate the knob 1 by 90 ° in the direction of the arrow in order to position the shutter 2 in a vertical position in the air duct 3.
Note : To return to the normal situation, push the knob 1 then rotate in the opposite direction.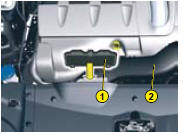 DIESEL ENGINE V6 HDi 208 FAP
Snow situation
Slide the deflector 1 into the air duct 2 and clip in.
It is essential to remove the very cold protection:
When the outside temperature exceeds 10 °C.
When driving at speeds of over 120 km/h (approximately 75 mph).
See also:
Anti-intrusion alarm
Your vehicle may be equipped with an anti-intrusion alarm. This ensures: • Exterior perimeter protection by means of detectors on the access points (doors, tailgate, bonnet) as well as on the el ...
Automatic windscreen wiping
The windscreen wipers operate automatically, without any action on the part of the driver, if rain is detected (sensor behind the interior mirror), adapting their speed to the intensity of the rai ...
Activation
The airbags are triggered simultaneously, unless the passenger's front airbag is disarmed, in the event of a serious front impact applied to all or part of the front impact zone A , in the longitu ...