Identification markings
Various visible markings for the identifi - cation of your vehicle.
A. Vehicle identifi cation number (VIN) under the bonnet.
This number is engraved on the bodywork near the damper mounting.
B. Vehicle identifi cation number on the dashboard.
This number is indicated on a selfadhesive label which is visible through the windscreen.
C. Manufacturer's label.
The VIN is indicated on a self-destroying label affi xed to the driver's centre pillar.
D. Tyre/paint label.
This label is affi xed to the driver's centre pillar.
It bears the following information:
- the tyre pressures, for unladen and laden conditions,
- the wheel rim and tyre sizes,
- the brands of tyre recommended by the manufacturer,
- the spare tyre infl ation pressure,
- the paint colour code.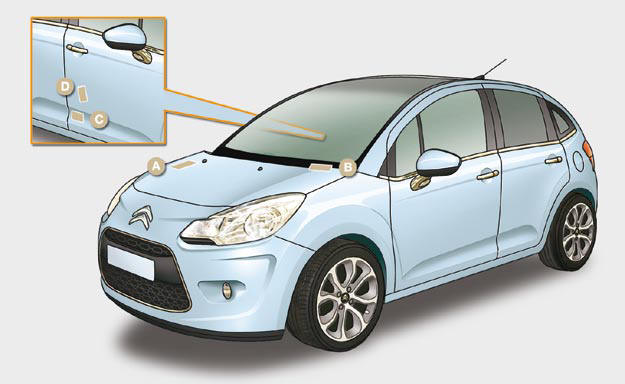 Wheels which are fi tted with 205/45 R17 tyres cannot be fi tted with snow chains. For further information, contact a CITROËN dealer.
The infl ation pressure must be checked when the tyres are cold, at least once a month.
If the infl ation pressure is too low, this increases fuel consumption.
See also:
Diesel engines
1. Screenwash reservoir. 2. Coolant reservoir. 3. Air fi lter * . 4. Brake fl uid reservoir. 5. Battery. 6. Fuse box. 7. Engine oil dipstick. 8. Engine oil fi ller cap. 9. Repriming pump * . ...
Advice on child seats
The incorrect installation of a child seat in a vehicle compromises the child's protection in the event of an accident. Remember to fasten the seat belts or the child seat harnesses keeping the ...
Citroen C5 HDi 200 dpfs, a blend of power and economy
A new engine is making its appearance in the Citroen C5 range, a new-generation 2.2 litre powerplant bringing across-the-board progress on power, torque, silence, fuel consumption and CO2 emission ...