Door mirrors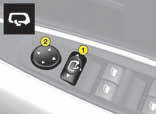 Adjustment of rear view mirrors
Functions with ignition switched on.
From the driver's position, select the rear view mirror via the control 1, then adjust in the four directions by moving the control 2.
Deicing of rear view mirrors is coupled with electric demisting of the rear screen.
Fold-back of door mirrors
When the vehicle is parked, the door mirrors can be folded back either manually or electrically.
Electric fold-back
From the central position, one press towards the rear on control 1 folds the rear view mirrors back. To return them to the initial position, press again on the control towards the rear.
Automatic electric fold back
Automatic fold-back operates when you lock the doors with the remote control.
The opposite movement applies when you unlock the doors, except if you operated fold-back before switching off the ignition.
Note: Automatic fold-back of the rear view mirrors can be deactivated. Consult your CITROËN dealer.
Automatic tilting of mirrors when reversing
Ths function automatically gives you a view of the ground while reversing the vehicle.
Activation
With the engine running:
- Select the rear view mirror using control 1.
- Engage reverse gear, the mirror glass automatically positions itself to improve your vision of the pavement.
- If necessary, adjust the mirror to your preference using the electric control 2.
Deactivation
To deactivate the function, move control 1 to the central position.
See also:
Safety advice
Any operation under the bonnet necessitates a number of safety precautions. Be particularly careful both before and during all checks under the bonnet: Allow the engine to cool down. Keep children ...
Fuel tank
1. Opening the fuel fi ller fl ap. 2. Opening and hooking the fuel fi ller cap. Tank capacity: - approximately 50 litres (petrol), - approximately 45 litres (Diesel). ...
Automatic windscreen wiping
The windscreen wipers operate automatically, without any action on the part of the driver, if rain is detected (sensor behind the interior mirror), adapting their speed to the intensity of the rai ...