Caution - towing a vehicle with automatic transmission
Put the selector lever in position N (neutral).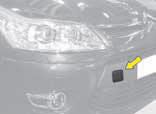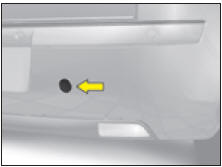 Towing with all wheels on the ground
Towing ring fixings are placed at the front and at the rear of the vehicle.
To access them:
- at the front: push on the left to tilt the cover, then remove it.
- at the rear: push at bottom, then pull on top.
The cover remains attached to the bumper by means of a tab, so that it cannot become lost.
The ignition key should be in position "M" so as to retain steering.
Use a bar with hooks to attach on the towing rings.
Vehicles with manual transmission
For vehicles with manual transmission, the gear lever must be in neutral. Failure to observe this requirement can lead to the failure of certain braking components and a lack of braking assistance on restarting the engine.
If the engine is not running, the steering and braking systems will not be power-assisted. If towing another vehicle, the latter should be free-wheeling (that is, gearbox in neutral).
See also:
Courtesy lamps
Selection and control of the various passenger compartment lamps. Version without Zenith windscreen A. Central courtesy lamp Version with Zenith windscreen 1. Rear side reading lamps 2. Rear ...
Charging the battery using a battery charger
Disconnect the battery from the vehicle. Follow the instructions for use provided by the manufacturer of the charger. Reconnect starting with the negative terminal (-). Check that the t ...