Vehicle identification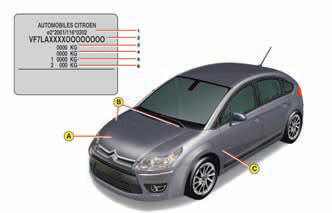 All original CITROËN replacement parts are available from CITROËN. It is in the user's interest, for his safety and for the sake of the warranty, to reject all other parts. Fitting parts or units not supplied by CITROËN may even result in violation of the law, if it involves non- compliance with regulations concerning safety, pollution control, interference suppression and the noise level of the vehicle. Fitting such parts or units could also deprive the user of any recourse against the maker.
A Chassis number label
1: EU type approval number.
2: Vehicle Identification N°. (VIN).
3: Gross vehicle weight.
4: Gross train weight.
5: Maximum weight on front axle.
6: Maximum weight on rear axle.
B Vehicle identification number
On the bodywork and behind the windscreen.
C Colour code.
Tyre reference
Tyre pressures
See also:
Charging the battery using a battery charger
Disconnect the battery from the vehicle. Follow the instructions for use provided by the manufacturer of the charger. Reconnect starting with the negative terminal (-). Check that the t ...
Programming
Turn thumb wheel 1 to the "CRUISE" position: the cruise control mode is selected but is not switched on (PAUSE). Set the programmed speed by accelerating to the required speed, then ...
Checks
Unless otherwise indicated, check these components in accordance with the Maintenance and Warranty Guide and according to your engine. Otherwise, have them checked by a CITROËN dealer. Batt ...