Vehicle identification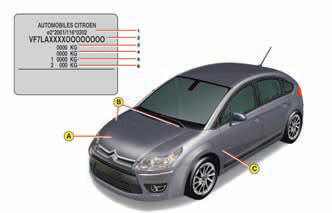 All original CITROËN replacement parts are available from CITROËN. It is in the user's interest, for his safety and for the sake of the warranty, to reject all other parts. Fitting parts or units not supplied by CITROËN may even result in violation of the law, if it involves non- compliance with regulations concerning safety, pollution control, interference suppression and the noise level of the vehicle. Fitting such parts or units could also deprive the user of any recourse against the maker.
A Chassis number label
1: EU type approval number.
2: Vehicle Identification N°. (VIN).
3: Gross vehicle weight.
4: Gross train weight.
5: Maximum weight on front axle.
6: Maximum weight on rear axle.
B Vehicle identification number
On the bodywork and behind the windscreen.
C Colour code.
Tyre reference
Tyre pressures
See also:
Air treatment
The incoming air follows various routes depending on the controls selected by the driver: - direct arrival in the passenger compartment (air intake), - passage through a heating circuit (heating ...
Battery
Removal If the vehicle is fitted with an alarm, this should be deactivated before disconnecting the battery. Disconnect the battery leads, negative lead first. Refitting Ensure that the battery i ...
Changing a wiper blade
Procedure for replacing a worn wiper blade with a new one without the use of tools. Before removing a front wiper blade Within one minute after switching off the ignition, operate the wipers ...