Bonnet release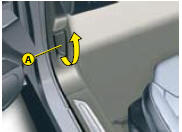 Bonnet
This operation should only be performed while the vehicle is stationary.
Open the door.
To unlock, pull release lever A.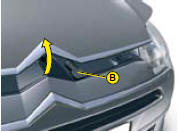 Lift up lever B, then raise the bonnet.
Note: The panel may be hot after the vehicle has been in use.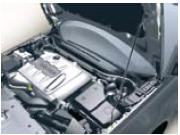 Bonnet stay
Unclip the stay and pivot to lodge it in the catch indicated by a yellow arrow.
To eliminate any risk of burns, only handle the bonnet stay using the protective foam.
To close
Check that nothing has been left on top of the engine and that any component that was moved has been correctly repositioned.
Return the bonnet stay to its initial position.
Lower the bonnet carefully, then let it drop shut.
Check that the bonnet is properly secured.
Do not operate the bonnet in strong winds.
See also:
Repositioning the seat backrest
When repositioning the rear seat backrest: Straighten the seat back 2 and secure it. Check that the red indicator, located next to the control 1 , is no longer visisble. When repositionin ...
Boot (Tourer)
1 Hook Allows you to hook shopping bags. 2 Torch To recharge, return it to its storage position. 3 Storage net or Battery compartment (for vehicles with V6 2.7 HDi engine). 1 Luggage-cover ...
Deactivation
In exceptional conditions (starting a vehicle which is bogged down, stuck in snow, on soft ground...), it may be advisable to deactivate the ASR and ESP systems, so that the wheels can move freel ...