Bonnet release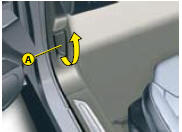 Bonnet
This operation should only be performed while the vehicle is stationary.
Open the door.
To unlock, pull release lever A.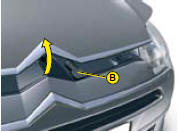 Lift up lever B, then raise the bonnet.
Note: The panel may be hot after the vehicle has been in use.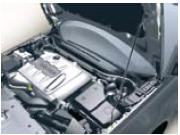 Bonnet stay
Unclip the stay and pivot to lodge it in the catch indicated by a yellow arrow.
To eliminate any risk of burns, only handle the bonnet stay using the protective foam.
To close
Check that nothing has been left on top of the engine and that any component that was moved has been correctly repositioned.
Return the bonnet stay to its initial position.
Lower the bonnet carefully, then let it drop shut.
Check that the bonnet is properly secured.
Do not operate the bonnet in strong winds.
See also:
Checks
Protects the components of the engine and provides access for checking levels. ...
Tailgate
Opening from the outside Press upwards on lever 1 which is located between the number plate lamps. Anti-theft security In all cases, as soon as the vehicle is moving (at above approx. 10 km/h or 6 ...
Special position of the windscreen wipers
In the minute following switching off of the ignition, any action on the stalk positions the wipers vertically. This action enables you to position the wiper blades for winter parking, cleaning ...