Fuel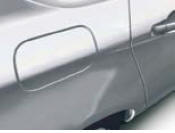 Fuel flap
To open, press at the top left-hand corner, then pull open from the left.
Locking filler cap
Turn the key a quarter turn to lock and unlock the filler cap.
When refuelling, place the cap on hook A.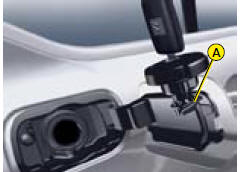 While you are refuelling, the engine must be stopped and the ignition switched off.
For a petrol engine with a catalytic converter, unleaded fuel is compulsory.
The filler neck is narrower to ensure that only unleaded petrol can be put in.
When you are seeking to fill your tank, do not persist after the third cut-off ; this could cause your vehicle to malfunction.
Fuel quality
A label inside the filler flap tells you which type of fuel to use.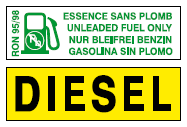 The petrol engines are designed to run on RON 95.
However, for better performance (petrol engine), we recommend RON 98.
Tank capacity
The tank has a capacity of approximately 71 litres.
If you should put in fuel that is not suitable for your vehicle's engine type, it is imperative to have the tank drained before you start the engine again.
See also:
Bonnet release
This should only be operated if the vehicle is stationary. To release the bonnet, pull control A located under the dashboard to the right. Move the lever A, located above the grille, to the righ ...
Rear lamps (tourer)
Rear lamp on wing Remove the lateral boot trim A. To do so : 1 Pull it towards towards the inside of the boot. 2 Pull it upwards. 3 Disconnect the connector B. 4 Unscrew the fixing screw C. ...
Fuses
Dashboard FUSEBOXES The 2 fuseboxes are located below the dashboard and under the bonnet. Replacing a fuse Before replacing a fuse, you should ascertain the cause of the fault and have it remedi ...