Fuel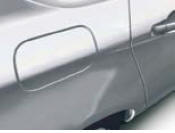 Fuel flap
To open, press at the top left-hand corner, then pull open from the left.
Locking filler cap
Turn the key a quarter turn to lock and unlock the filler cap.
When refuelling, place the cap on hook A.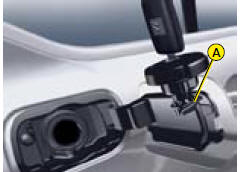 While you are refuelling, the engine must be stopped and the ignition switched off.
For a petrol engine with a catalytic converter, unleaded fuel is compulsory.
The filler neck is narrower to ensure that only unleaded petrol can be put in.
When you are seeking to fill your tank, do not persist after the third cut-off ; this could cause your vehicle to malfunction.
Fuel quality
A label inside the filler flap tells you which type of fuel to use.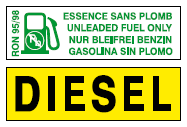 The petrol engines are designed to run on RON 95.
However, for better performance (petrol engine), we recommend RON 98.
Tank capacity
The tank has a capacity of approximately 71 litres.
If you should put in fuel that is not suitable for your vehicle's engine type, it is imperative to have the tank drained before you start the engine again.
See also:
Checks
Protects the components of the engine and provides access for checking levels. ...
Changing a wheel
Access to the spare wheel Lift the boot floor. Dimension of the spare wheel If your spare wheel is of a different dimension to those on the vehicle (identified by a label), it is essential to u ...
Fuel tank
1. Opening the fuel fi ller fl ap. 2. Opening and hooking the fuel fi ller cap. Tank capacity: - approximately 50 litres (petrol), - approximately 45 litres (Diesel). ...