Rear lamps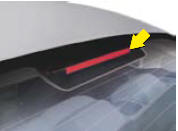 Third stoplamp
The third stoplamp uses diodes which cannot be replaced.
In case of malfunction, contact a CITROËN dealer.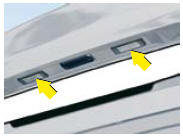 Number plate
1 Using a flat screwdriver, detach the transparent cover by levering it into the notch provided.
2 Lift up and pull the transparent cover.
3 Using a small flat screwdriver, remove the faulty bulb.
4 Fit the new bulb by firstly placing the angled base on the axis of the clips, then press the bulb in to insert.
5 Refit the transparent cover by inserting it from the edge opposite the notch, then press on the edge of the transparent cover.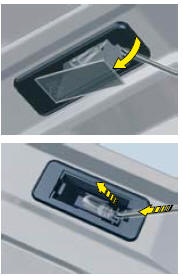 Bulb: W 5W
After each operation, check that the lamps work.