Opening
Fuel tank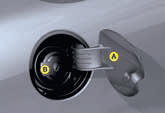 A. Opening the fuel filler flap.
To open the fuel fi ller fl ap, pull at its notched edge. There is a fuel label on the inside of the fl ap.
Locking filler cap
Turn the key a quarter turn to lock and unlock the fi ller cap. When refuelling, place the cap on the carrier on the inside face of the fi ller fl ap.
B. Removing the fi ller cap.
Fuel tank capacity: 60 litres approximately.
Tailgate
Unlock the vehicle with the remote control or the key.
Press up on the lever and lift the tailgate.
Spare wheel and tools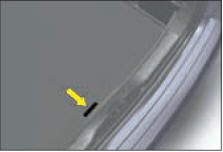 Access to the spare wheel
Lift the carpet, then remove the tool holder to gain access to the wheel.
Access to the tools
The tools are located in a protective holder in the spare wheel.
If your spare wheel is of different dimensions to the wheels on the vehicle, it is essential to use it only on a temporary basis, and to not drive above 0 km/h (50 mph).
See also:
Lane Departure Warning System
This driving assistance device warns you when you unwittingly cross a lane marking (either a continuous or a dotted line on the road surface). It is designed for use on motorways and dual carriage ...
Interior fittings
1. Sun visor 2. Glove box (see details on following page) 3. Storage compartments 4. Door tray 5. Upper storage compartment 6. Lower storage compartment with non-slip mat 7. USB port /Jack ...
Programming
Turn thumb wheel 1 to the "LIMIT" position: the speed limiter mode is selected but is not switched on (PAUSE). You do not have to switch the speed limiter on in order to set the speed ...