Opening
Fuel tank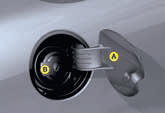 A. Opening the fuel filler flap.
To open the fuel fi ller fl ap, pull at its notched edge. There is a fuel label on the inside of the fl ap.
Locking filler cap
Turn the key a quarter turn to lock and unlock the fi ller cap. When refuelling, place the cap on the carrier on the inside face of the fi ller fl ap.
B. Removing the fi ller cap.
Fuel tank capacity: 60 litres approximately.
Tailgate
Unlock the vehicle with the remote control or the key.
Press up on the lever and lift the tailgate.
Spare wheel and tools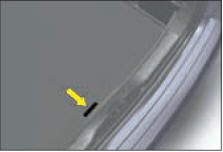 Access to the spare wheel
Lift the carpet, then remove the tool holder to gain access to the wheel.
Access to the tools
The tools are located in a protective holder in the spare wheel.
If your spare wheel is of different dimensions to the wheels on the vehicle, it is essential to use it only on a temporary basis, and to not drive above 0 km/h (50 mph).
See also:
Special position of the windscreen wipers
In the minute following switching off of the ignition, any action on the stalk positions the wipers vertically. This action enables you to position the wiper blades for winter parking, cleaning ...
Fuel
A label on the inside of the fuel filler flap indicates the approved fuel quality type. DIESEL FUEL UNLEADED PETROL Petrol engines are designed to run on RON 95 fuel. However, for better ve ...
Brakes
If the parking brake is released, the lighting of this warning lamp along with the STOP warning lamp indicates an insufficient level of brake fluid or a malfunction of the braking distribution ...