Opening
Fuel tank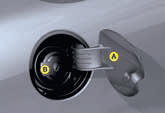 A. Opening the fuel filler flap.
To open the fuel fi ller fl ap, pull at its notched edge. There is a fuel label on the inside of the fl ap.
Locking filler cap
Turn the key a quarter turn to lock and unlock the fi ller cap. When refuelling, place the cap on the carrier on the inside face of the fi ller fl ap.
B. Removing the fi ller cap.
Fuel tank capacity: 60 litres approximately.
Tailgate
Unlock the vehicle with the remote control or the key.
Press up on the lever and lift the tailgate.
Spare wheel and tools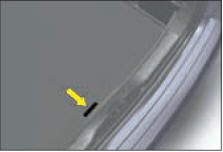 Access to the spare wheel
Lift the carpet, then remove the tool holder to gain access to the wheel.
Access to the tools
The tools are located in a protective holder in the spare wheel.
If your spare wheel is of different dimensions to the wheels on the vehicle, it is essential to use it only on a temporary basis, and to not drive above 0 km/h (50 mph).
See also:
Wiper controls
System for selection and control of the various front and rear wiping modes for the elimination of rain and cleaning. The vehicle's front and rear wipers are designed to improve the driver's visib ...
Parking space sensor
The "Parking Space Sensor" function assists you in finding a parking space. It measures the size of the space and gives you information on: The possibility of parking in a free space, depending o ...
Driving
Ignition switch • S: Steering lock To free the steering, turn the steering wheel slightly at the same time as turning the key, avoiding any undue force. • M: Ignition • D: Starter Release the ...