Windows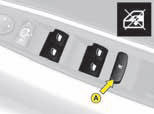 Electric windows
The driver uses the controls located on the door to operate the vehicle's electric windows.
Note: the electric windows can also be operated for a limited time after the ignition has been switched off (including after the front doors have been opened).
Sequential electric window controls
There are two operating modes:
manual mode
Press or pull the control switch, without going beyond the point of resistance. The window stops on release of the control switch.
automatic mode
Press or pull the control switch beyond the point of resistance. The window opens or closes completely on release of the control switch.
Pressing or pulling the switch again stops the movement of the window.
Anti-pinch device
An anti-pinch device stops the window from rising. If it meets an obstacle, it goes back down.
After a battery disconnection or in the event of a malfunction, you have to re-initialise the anti-pinch function:
- Lower the window fully using the control, then close. It will rise only a few centimetres.
- Press repeatedly on the control until the window is fully closed.
Warning: During this operation, the anti-pinch protection does not work.
ALWAYS PAY ATTENTION TO WHERE CHILDREN ARE WHEN OPENING OR CLOSING WINDOWS.
- Always remove the ignition key when leaving the vehicle, even for short periods.
- If the driver is operating the passenger's electric window control, the driver should ensure that no passenger is obstructing the window from closing.
- The driver should check that the electric windows are used properly by the passengers.
- Should there be any risk of a person becoming trapped by a window closing, you should immediately reverse the window movement. To do this, reverse the position of the control concerned.
Electric child safety

This allows from the front, deactivation of the opening of the rear doors and the use of the rear windows.
It is activated by means of a press on control A located on the electric windows control panel. The warning lamp in the instrument panel lights up for approx. 10 seconds.
Each time the ignition is switched on, the warning lamp comes on for approx. 10 seconds.
Opening of the doors from the outside and operation of the rear electric windows remain possible from the front of the vehicle.
See also:
Operation
The system intervenes only when driving economically. Depending on the driving situation and your vehicle's equipment, the system may advise you to skip one or more gears. You can follow this ins ...
Towing – Lifting
Towing with wheels on the ground Towing eye fixings are located at the front and at the rear of the vehicle. Detach the cover: For the front cover, lever with a screwdriver at the top of the cove ...
CD changer source
CD Changer This unit (if fitted) is located under the front centre armrest and can receive 6 CDs. Inserting CDs into the magazine - To insert a CD, press the LOAD button, then the one for the slo ...