Tailgate
Opening from the outside
Press upwards on lever 1 which is located between the number plate lamps.
Anti-theft security
In all cases, as soon as the vehicle is moving (at above approx. 10 km/h or 6 mph) the tailgate locks automatically. The tailgate unlocks when a door is opened or if the interior locking/unlocking button is pressed.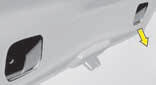 Closing the tailgate
Lower the tailgate, using the 2 handhold zones located on the tailgate interior trim.
Removing your fingers, press down to close.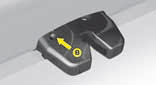 Emergency unlocking
If there is a problem with unlocking the tailgate, it can be unlocked from inside the boot:
- insert a screwdriver or similar tool into hole 2 of the lock,
- turn it in order to unlock the tailgate.
See also:
Electric parking brake
The electronic parking brake combines 2 operational modes: AUTOMATIC: Automatic application when the engine is stopped and automatic release on use of the accelerator (automatic operation by def ...
Operating fault
In the event of a fault with the brightness sensor, the lighting come on, this warning lamp is displayed on the instrument panel and/or a message appears on the multifunction screen, accompanied ...
Display C
Presentation: 1 - Time. 2 - Ambient temperature 3 - Date and Display zone If the outside temperature is between +3 °C and -3 °C, the temperature display flashes (risk of ice). Note: the outsi ...