Tailgate
Opening from the outside
Press upwards on lever 1 which is located between the number plate lamps.
Anti-theft security
In all cases, as soon as the vehicle is moving (at above approx. 10 km/h or 6 mph) the tailgate locks automatically. The tailgate unlocks when a door is opened or if the interior locking/unlocking button is pressed.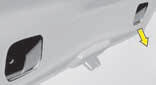 Closing the tailgate
Lower the tailgate, using the 2 handhold zones located on the tailgate interior trim.
Removing your fingers, press down to close.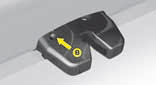 Emergency unlocking
If there is a problem with unlocking the tailgate, it can be unlocked from inside the boot:
- insert a screwdriver or similar tool into hole 2 of the lock,
- turn it in order to unlock the tailgate.
See also:
Dimensions
(in metres) ...
Running out of fuel (diesel)
If your vehicle is fi tted with an HDI engine, the fuel circuit must be reprimed if you run out of fuel. This system consists of a repriming pump, a transparent pipe and a degas screw under the b ...
Installing a child seat using a three point seat belt
"Rearwards-facing" When a "rearwards-facing" child seat is installed on the front passenger seat , it is essential that the passenger airbag is deactivated. Otherwise, the chil ...