Steering lock - Ignition - Starter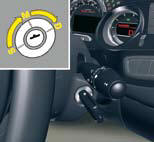 S: Steering lock
To unlock the steering, gently move the steering wheel while turning the key, without exerting undue force.
When you remove the key, turn your steering wheel to lock the steering. The key can only be removed when in position S.
NEVER REMOVE THE IGNITION KEY BEFORE THE ENGINE HAS COME TO A COMPLETE STOP.
IT IS ESSENTIAL AL WAYS TO DRIVE WITH THE ENGINE RUNNING , SO AS TO RETAIN STEERING AN D BRA KING ASSISTANCE (risk of the steering lock engaging and loss of safety features).
When stationary, having removed the key, carefully turn the steering wheel if you wish to lock the steering.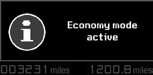 Economy mode
When the engine is stopped, some functions (audio system, screen wipe, electric windows, sunroof, electric seats, telephone, video, interior lighting etc.) are only electrically supplied for a maximum period of 30 minutes, to avoid discharging the battery.
Once this period is over, a message is displayed on the instrument panel screen and the active functions are placed on standby.
The electrical components relating to comfort and also the headlamps (not sidelamps or hazard warning lamps) cut out automatically. To reactivate them, it is necessary to start the engine.
See also:
Charging the battery using a battery charger
Disconnect the battery from the vehicle. Follow the instructions for use provided by the manufacturer of the charger. Reconnect starting with the negative terminal (-). Check that the t ...
HiFi system
The Hi-Fi system, custom built for your cabin, is made up of: A high power DSP (Digital Signal Processing) digital amplifier. A subwoofer bass box (30 Hz - 100 Hz). 8 specific loudspeakers. An MP3 ...
Interior mirror
Adjustable mirror providing a central rearward view. Manual model The mirror is fi tted with a night-time anti-dazzle device. Adjustment Adjust the mirror so that the glass is directed correc ...