Wipers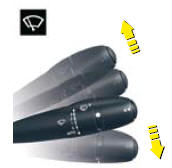 FRONT WIPERS
Control positions
2: Rapid wipe.
1: Normal wipe.
I: Intermittent wipe.
0: Off.
One press downwards:
AUTO: Automatic wipe activated.
Single wipe.
Position I: The speed of the wipers will adjust itself to the speed of your vehicle.
Positions 1 and 2: When the vehicle is stationary, the speed of the wipers will reduce automatically.
For safety, the wiper system is deactivated when the ignition is switched off.
Automatic wipe: To activate automatic wipe, place the control stalk on position 0, then press it downwards.
The activation of this mode is confirmed by one wipe and a message on the instrument panel screen. The wipe speed will adjust according to the intensity of the rain.
Note: Pulling the stalk downwards will produce a single wipe, without deactivating automatic wiping.
Automatic wiping is not retained once the engine is switched off.
Deactivation of automatic wipe:
Go to position I, then return to position 0.
Or stop the engine.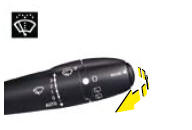 Screen wash
Pull the screen wipe control stalk towards you.
The screen wash is accompanied by a timed wipe sequence. If the dipped beams are on, it is also accompanied by a timed headlamp wash.
Do not cover the rain detector which is located behind the interior rear view mirror and visible from outside the windscreen. Using an automatic car wash: switch the ignition off to avoid the wiping system activating.
Changing the wiper blades
If changing the wiper blades, they must be stopped in the maintenance position. For this, switch off the ignition and then within one minute move the wiper control stalk. The wipers stand up vertically.
After replacement, switch on the ignition and move the wiper control stalk so that the wipers resume their normal position.
Remark: The maintenance position can also be used in snowy conditions to avoid a build up of snow.
Check that the wipers can operate freely in freezing temperatures. Remove any accumulation of snow at the base of the windscreen.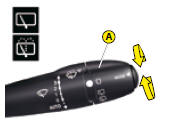 REAR WIPERS AN D WASH (TOURER)
Rotate control A to the desired position.

Off

Intermittent wipe

Screen wash
The screen wash is accompanied by a timed rear wipe sequence.
See also:
Safety recommendations
The ESP system offers increased driving safety but is not in place to encourage the driver to take additional risks or to drive at excessive speeds. The functioning of this system is subject to co ...
Electric child lock
The lighting of the indicator lamp indicates the status of the corresponding function. A. Deactivation of the rear door controls. or B. Deactivation of the rear door and rear elecric window co ...
Steering wheel controls
The controls of this system are grouped together on stalk A . 1. Speed limiter mode selection thumb wheel 2. Value decrease button 3. Value increase button 4. Speed limiter on/off button ...