Diesel injection equipment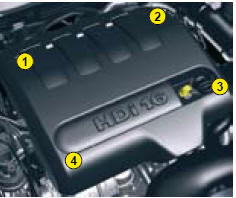 Protective cover for HDi 138 engines:
Remove the protective cover by first unclipping at 3, then 1 and 4.
Unclip at 2 by pulling towards you, then lift up.
To refit the protective cover, firstly clip in at 2. Lower and centre the cover. Clip in at 3 and 4, pushing vertically and gently from the rear.
Clip in at 1 pushing vertically.
Protective cover for HDi 110, HDi 173 and V6 HDi 208 engines:
Pull the protective cover upwards to remove.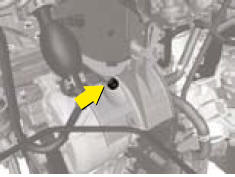 Draining water from the fuel filter
Drain regularly (at each oil change).
To drain the water, slacken the bleed screw or the water in diesel fuel sensor, located at the base of the filter.
Continue until all the water has flowed out.
Then retighten the bleed screw or the water detection sensor.
HDi engines are the result of advanced technology.
Any intervention requires special qualifications which only a CITROËN dealer can guarantee.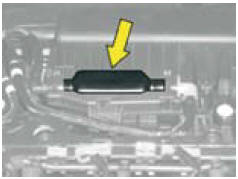 HDi 110 engine
In the event of running out of fuel:
HDi 110, HDi 138 and HDi 173 engines with priming pump
After filling (minimum 5 litres) and removing the protective cover, action the manual priming pump, until some resistance is felt.
Operate the starter motor while depressing the accelerator pedal slightly until the engine starts.
If the engine fails to start at the first attempt, wait 15 seconds before trying again.
If the engine fails to start after a few attempts, action the priming pump again and then try to start the engine.
When the engine is idling, accelerate slightly to complete the bleeding of the circuit.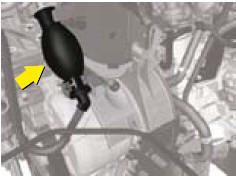 HDI 138 and HDi 173 engines
V6 HDi 208 engine with priming pump
After adding fuel, turn the ignition key to position M, wait for a few seconds, then operate the starter motor until the engine starts.
If the engine fails to start after several attempts, contact a CITROËN dealer.
See also:
Anti-tamper function
The system detects the putting out of service of its components. The alarm is triggered if anyone tries to put the wires of the siren, the central control or the battery out of service. Do not ma ...
Child restraints
CHILD SEATS SECURED BY MEANS OF THE VEHICLE SEAT BELT In conformity with Directive 2005/40, the table tells you to what extent each of the seat positions in your vehicle may take a child seat that ...
Trip computer
System which provides current information concerning the route travelled (range, consumption…). ...