Fuses
Dashboard
FUSEBOXES
The 2 fuseboxes are located below the dashboard and under the bonnet.
Replacing a fuse
Before replacing a fuse, you should ascertain the cause of the fault and have it remedied. The numbers of the fuses are indicated on the fusebox.
Replace the fuse that has blown with one of the same rating (same colour).
Use the special pliers 1 placed on the flap close to the fuseboxes.
The flap also has spare fuses available.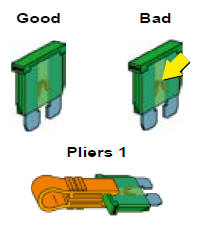 Dashboard fuses
To access the fuses under the dashboard, open the glovebox and then detach the stowage cover.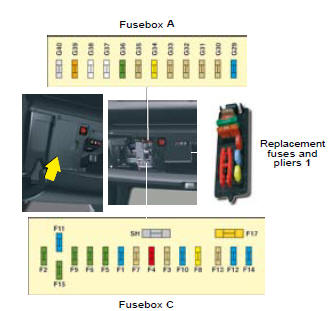 Table of fuses
Fusebox A

Fusebox B

Fusebox C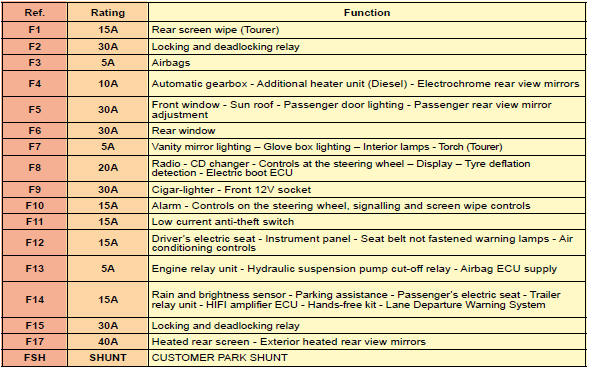 Under the bonnet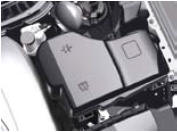 To access the fusebox under the bonnet, undo each screw by a 1/4 turn.
After a repair, take care to reclose the cover.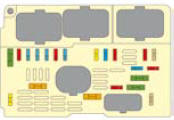 Any repairs on the MAXI fuses (that give additional protection), located in the fuseboxes, must be left to a CITROËN dealer.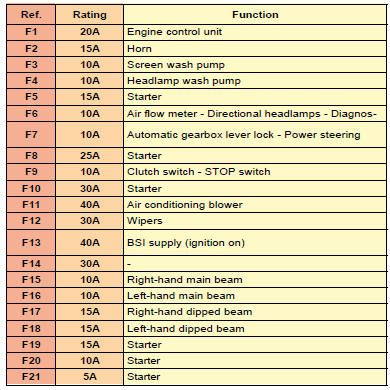 See also:
USB reader
This connection box, consisting of a JACK socket and a USB port, is located on the centre console. It permits the connection of portable equipment, such as a digital audio player of the iPod ® ...
Speed limiter
This driving assistance device allows you to select a maximum speed that you wish not to exceed. This has to be a speed greater than 30 km/h (approx. 20 mph). The speed limiter controls are loca ...
Anti-skid regulation (ASR) and electronic stability programme (ESP)
The anti-skid regulation (also known as Traction Control) optimises traction to prevent skidding of the wheels, by acting on the brakes of the driving wheels and on the engine. The electronic sta ...