Main Menu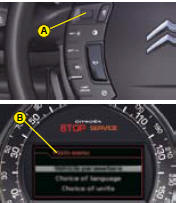 The instrument panel B is located in the centre of the dashboard.
With the vehicle stationary, you can access the main menu of the instrument panel by quickly pressing on the left-hand rotating control A on the steering wheel.
Note: The message "Action impossible whilst driving" is displayed on the instrument panel if you try to open the main menu whilst driving.
The main menu allows you to programme certain vehicle and instrument panel functions: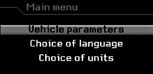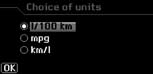 "Choice of units" menu
This allows you to choose metric or imperial units.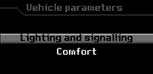 "Vehicle parameters" me
This allows you to access the parameters relating to:
The vehicle lighting.
The comfort levels in the vehicle.
See "Instrument panel - Vehicle parameters".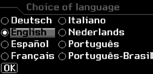 "Choice of language" menu
This allows you to choose the display and voice recognition language.
See also:
Accessories
A wide range of CITROËN replacement parts and accessories is available from the dealer network. They are all from the CITROËN catalogue. After being tested for reliability and safety, ...
Brakes
Braking system Your vehicle's most important safety feature, the braking system, is provided by brake discs (or discs and drums) and a dual hydraulic circuit. When the engine is running, power as ...
"My DS3!"
Offering freedom of expression, the innovative Citroën DS3 provides extensive levels of personalisation - both inside and out. In addition to a range of body shades, the Citroën DS3's di ...