Checks / Oil level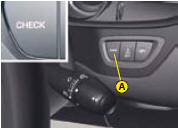 Log of alerts
This function allows you to display the log of alerts.
Press on button A. The following messages appear consecutively on the instrument panel screen:
Tyre pressure check.
Maintenance indicator reminder.
Display of message alerts.
Oil level check.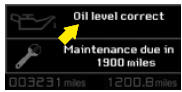 Engine oil level indicator
When you switch the ignition on, the engine oil check is displayed for a few seconds on the instrument panel screen.
Note: to ensure that this measurement is accurate, check the oil level on horizontal ground after the engine has been switched off for at least 15 minutes. An incorrect engine oil level can seriously damage your engine.

"Oil level correct" indicates normal operating.

"Oil level incorrect" indicates that the oil level is too low.
Check using the manual dipstick.
See "Levels".
If, after topping up, the message re-appears, contact a CITROËN dealer.

"Oil level measurement invalid" indicates a malfunctioning of the indicator.
Contact a CITROËN dealer.
See also:
Child safety
Electric operation The child safety function is activated by pressing button A. This deactivates the controls in the rear of the vehicle, both for the rear windows and for opening the rear door ...
Exceeding the programmed speed
Pressing the accelerator pedal to exceed the programmed speed will not have any effect unless you press the pedal fi rmly past the point of resistance . The speed limiter is deactivated temporarily ...
e-HDi micro-hybrid technology for spectacular results
The Citroen C5 inaugurates the new micro-hybrid technology that will be widely applied to numerous models in the range. Initially it will be available with the HDi 110 DPFS version equipped with t ...